September 21, 2010

Watch Gonzo

0
The Seiko collection includes 9 new creations using quartz and Kinetic calibers. Seiko sportura watches are introduced in a high-grade stainless steel case. Each Sportura watches have 100 meter water resistant and a non-reflective sapphire crystal. Familiar elements like black dials, anti-reflective sapphire crystals and red and orange accents remain, but the designs have been refined. Seiko Sportura includes the following functions like: A tachymeter, chronographs of all kinds and sorts, an alarm, power reserve and a set of inner functions such as the overcharge preventer and equipped with anti-glare sapphire crystals. That's why even at high speed this watch is durable, practical and legible. Either Quartz or Kinetic, for men or for women, Sportura is engineered for the new road ahead.
It is a wonderful creation of Seiko. Seiko Sportura Chronograph Tachymeter 100M Leather Watch SNAA95P2 is a superb sports watch. The strap of this watch is made up of Black Genuine leather. It's Dial is black textured with luminous hands and markers. There is a date calendar, tachymeter functions and an alarm function also. Alarm can be set on a 12-hour basis with two small hands. Alarm hands can indicate the time in a different time zone. The stopwatch measures up 60 minutes in 1/5 second. This watch has Hour, minute and small second hands. This watch also features Solid Screw down crown at 3 o' clock position, Sapphire crystal, Water resistant to 100 meters, approximate case Diameter: 43mm excluding crown and 46mm including crown. Seiko Sportura chronograph is imprinted on the dial, an effort has been made by Seiko to incorporate racing colors. Orange and red color can be seen in the watches for men. When it comes to women watches, they have set diamond dials and the colors with main emphasis on bronze and silver. These are the colors that make these watches ultimately feminine while being sporty. Seiko Sportura is one of the best sports watch collection of Seiko.
A Seiko chronograph is not only a watch, but it is also a sophisticated stopwatch that can measure down to fractions of a second in several ways. For example: Dual time zone feature allows for setting a second time zone when traveling without changing the setting for your home time zone, Measure standard elapsed time of any event, Measure split times for segments or laps in a race ans Measure accumulated time so you can track playing time and stop the clock for time-outs.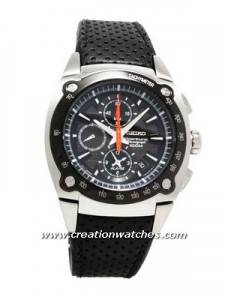 Click here for more details: Seiko Watches
Some Important Features:
Titanium Carbon Nitride plated bezel
Seiko Sportura Chronograph Tachymeter Men's Alarm in Leather band
Seiko Sportura chronograph is imprinted on the dial
Black textured dial with luminous hands and markers
Stainless steel case and case-back
Solid Screw down crown at 3 o'clock position
Tachymeter functions
Date calendar
Alarm
Sapphire crystal
Genuine leather strap
100m water resistance (10bar)
Dimensions:
Case Diameter : 43mm excluding crown and 46mm including crown.
This watch is available for USD 336.00 with us.
Click here for more details and to purchase it:  Seiko Men's Watch