January 14, 2011

Watch Gonzo

2
JP3040-59E is an another classic watch from Citizen with a great look. This watch is a combination watch equipped with a water depth gauge that measures water depth during diving, and an altimeter that measures altitude during mountain climbing and other high altitude activities. This Citizen Diver watch has number of wonderful features & function.  This watch has Water depth measurement function which begins measurement of water depth automatically simply by wearing on the wrist and entering the water. It measures water depth in 0.1 m units down to a maximum depth of 80 m. It also automatically records diving data (log data) of the four most recent dives. It is equipped with various warning functions necessary for ensuring safe diving.  This watch also has Altitude measurement function.  This watch equipped with an altitude memo function that enables altitude, barometric pressure, time and other data to be stored in memory for a maximum of six measurement points.
This Citizen Promaster watch has Solid links stainless steel bracelet with double locking clasp and wetsuit extension, Programmed calendar, Alarm and Hourly Chime. This watch is made in Japan. There is an auto depth meter activation. This Citizen Diver Watch has a temperature measurement function that allows measurement of water temperature while diving and air temperature on land. There is a Chronograph function (24 hour register) able to measure time in 1/100 second units. This watch also has 24-hour alarm function. The digital display of this watch uses three major modes consisting of the "Standard Mode", "Water Depth Measurement Mode" and "Altitude Measurement Mode". There are several other modes (functions) contained in the "Standard Mode", such as the time, calendar and alarm modes.
Time/Calendar mode is used to display and correct the time and date. Measurement of temperature and barometric pressure are also performed in this mode. Alarm mode is used to switch the alarm on and off, and set the alarm time.  Log Memo mode is used to recall and display the four most recent sets of diving data automatically stored in memory during water depth measurement.  Water Depth Measurement Mode is used when diving. It is used to measure and display current water depth and dive time at 1 second intervals while diving. Altitude Measurement Mode is used when mountain climbing and so forth. It is used to measure and display altitude and barometric pressure either at 1 second or 15 minute intervals. In addition, this mode is also used to correct altitude to measure altitude more accurately.
Click here for more details: Citizen Watch
Some Important Features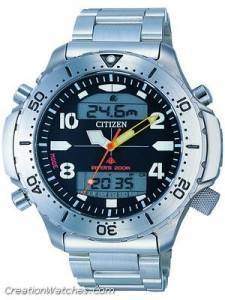 Analog-digital Quartz movement.
Professional Divers Watch.
Electronic Depth meter (digital) to 80 meters in 0,1m-Steps.
Dive log-Memory for the last 4 Dives containing the following:
Number of Dive.
Maximum Depth.
Duration of Dive (up to 100 min).
Dive-Start-time & Dive-End-Time.
Average depth.
Lowest water temperature.
Depth alarm, Number of repeated Alarms presentable.
Dive-time-alarm ( 5 to 95 min., presentable in 5-min-Steps).
Ascending-alarm ( if faster than 9 meter / 1 Minute).
Electronic Altimeter (-300 tp + 6.300m) incl. 6 log memories for 6 waypoints (incl. Air pressure, Temperature, Time, Height).
Actual Air pressure.
Stopwatch (up to 24h in 1/100 sec).
Daily-alarm.
Temperature (-10° C to + 60° C in 0,1° C-Steps).
Programmed Calendar.
Mineral Glass.
Stainless steel case and band.
Battery Life: About 2 years.
This watch is available for US $340.00 with us.
Click here for more details and to purchase it:  mens citizen watch