What makes the perfect gift for a woman? It would have to be something that is at once beautiful and usable, something desirable and long lived, and something she will treasure and feel able to show off to her friends. A classy, stylish women's watch ticks all those boxes, and offers much more besides! Watches have been tied to traditional styles for a long time now, and there are some girls who like the classic look. However, lately there has been a move towards Womens Watches that are more jewellery inspired.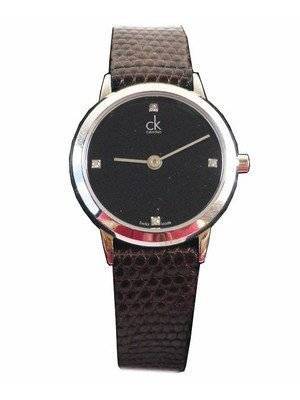 The Calvin Klein Swiss Made K5022426 is a perfect example; have you ever seen anything like this before? It really is among the most original women's watches that we have ever seen. The beautiful design incorporates a watch into what is primarily a very attractive bracelet, resplendent in classic stainless steel with engraving adding to the swish look. This watch will be the envy of all her friends, and would be a fantastic gift for any girl who loves her up to the minute fashion. Even better is the price: it can be yours for a mere $175.00, a bargain in anyone's book!
For something less outlandish and more traditional you might want to take a look at the classically styled Swiss Made K0353102 Calvin Klein Watch. This very pretty, neat and understated design features a black face – a rarity in watches for women – with four diamonds, and the polished stainless steel case and black leather strap add to the minimalist appeal. This is a very classy watch for the girl who loves to look good, and one that also brings the cache of a designer brand that is known the world over. At only $145.00 it is certainly one for the shortlist.
At Creation Watches we love the traditional style of women's watch, and none fits the bill more than the Citizen Eco-Drive EO1041-03B. The classy and very pretty white dial, complete with Swarovski crystals, is perfectly enhanced by the white calf-skin leather strap, and this diminutive and unobtrusive watch is a classic of its kind. It is perhaps the perfect gift for a girl who likes to do things in an understated if stylish way, and is a great buy at just $99.00! There is so much choice when it comes to women's watches, and we recommend that you simply sit back and browse. You will find something that she will love.