This Citizen Aqualand Promaster JP1060-01W is another wonderful Diver watch belongs This watch is a very nice watch. It is a good quality watch, with all the essential functions.  This Citizen Aqualand Promaster watch is a diver's watch having a analogue and digital combination of display. This watch has well equipped electronic depth meter. This watch is provided with a water sensor. When the watch senses water on its water sensor, the watch automatically enters the diving mode without any operation to change the mode and all diving functions become ready for use. After a dive begins, diving time, present depth, Maximum depth and water temperature are automatically measured and displayed. This is one of the great features of this watch and the most people who purchase this watch are very impressed with this feature. The watch is provided with a log data memory function that can store the data for 4 dives. Moreover, different dive alarm functions are available. One alarm function alerts the diver of excess speed in ascending; if you ascend too rapidly during a dive, the alarm sounds.
This citizen Diver watch features Electronic diving depth gauge, strong contrast dial (black), illuminated figures and pointer, center seconds hand (balanced), digital depth measuring Show (1/10m), diving depth alarm, maximum depth memory, memory dive time, water temperature (-10 to 60 ° C), start / end dive, To be alert for rapid emergence, Decompression Table (on tape), Stopwatch (1 / 100 Sec) with intermediate time calendar. Massive stainless steel housing, single-diver-rotating bezel with luminous reference point (scale 0-60 min), protected flanks, soil screwed (individually numbered), extra-large crown (screwed), replaceable rubber band with steel strap and steel spike. The integrated micro-electronic depth sensor reacts to the smallest pressure changes, expects them into precise depth information to and displays them on digitally. This watch has Stainless steel casing / rubber bracelet with a strong spring and nylon cloth gangways deposit Electronic depth meter diving time meter dive time alarm / dive time memory Digital and max. Display Depth Max storage Depth Storage of dives, start / end, Dive Diving depth alarm / alarm on rapid emergence Display Thermometer Luminescent hands and luminous indices, Rotating bezel / screwed crown / screwed bottom, Calendar function, Stopwatch with intermediate time24-hour display and an alarm.
Diving can be a safe, enjoyable activity when diving rules are properly followed. It is always, however, accompanied by certain risks including diver's paralysis and unanticipated accidents. Before diving please obtain proper diving instructions and be sure to conduct safety checks. Please use this watch only after you have read and fully understood the operating procedures and cautions as these may result in failure of the watch to function properly.
Click here for more details: Citizen Men's Watch
Some Important Features: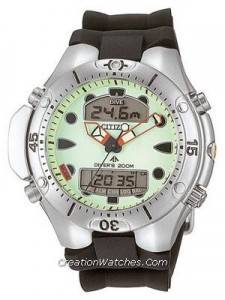 Analog-digital Quartz movement.
Professional Divers Watch.
Underwater Depth Display Down to 260 Feet – 80 m.
Water-temperature indicator (-5ºC~+40ºC).
For diving: Log memo (4 dives).
Depth alarm.
Dive time alarm.
Maximum depth indicator.
Dive time(up to 100 minutes).
Rapid ascent warning.
1/100 second Chronograph Measures up to 24 Hours.
Alarm.
Full auto Calendar.
200m Water resistant.
Screwdown crown and Screw Caseback.
Unidirectional rotating elapsed time bezel.
Hardened Mineral Glass.
Stainless steel Case. Rubber Band.
Battery
Battery Life: About 2 years.
Low battery indicator.
Diameter: 42mm
Thickness: 12 mm.
Weight: 117 g.
This watch is available for US $230.00 with us
Click here for more details and to purchase it:  Aqualand Diver Watch