Rubber and titanium puts together the Frogman again and the iconic submersible watch from the 1951 movie The Frogmen is back to life! With roots in its military reputation dating back to the World Wars, Hamilton is equipping the American military since 1892.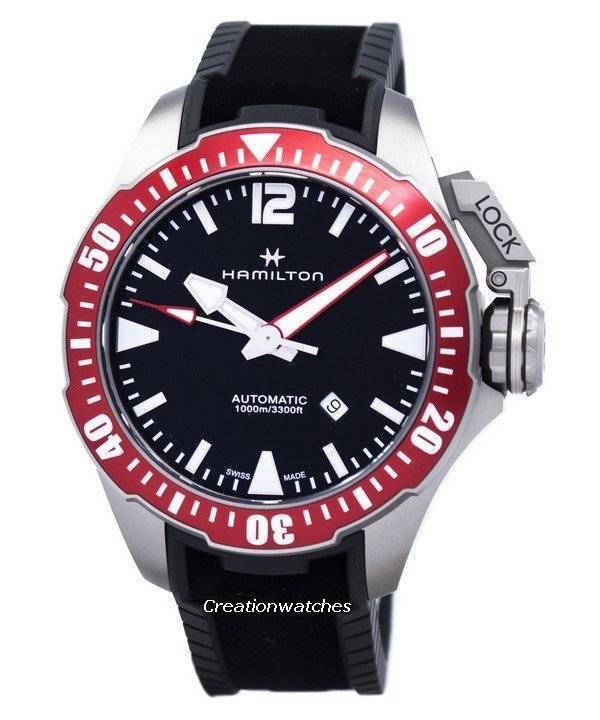 The new Hamilton Khaki Navy Frogman Automatic watches are sportier, more rugged and exhibit a blatantly aggressive edge coming from its highly technical appearance and that's common for all the variations. The world-renowned, free-diver Pierre Frolla contributes generously for each model, including the stunning, crown-protection device design, which resembles the military canteens of the 1950s.
The Hamilton Khaki Navy Frogman Automatic watches are built to meet high demands. Super-sporty watches that double up as stylish dressing accessories, these 2016 models stand out with 42 mm diameter cases, both in titanium and stainless steel. It clearly shows that the built of the Hamilton Khaki Navy Frogman Automatic watches is to withstand high degree of underwater demands; the easy readability and high-tech specs showing from the dials and unidirectional rotating bezels to the clasps. The trimmed-tips of the seconds-hands or the operating indicators are highlights and a vital feature of these Hamilton Khaki Navy Frogman Automatic diver's models.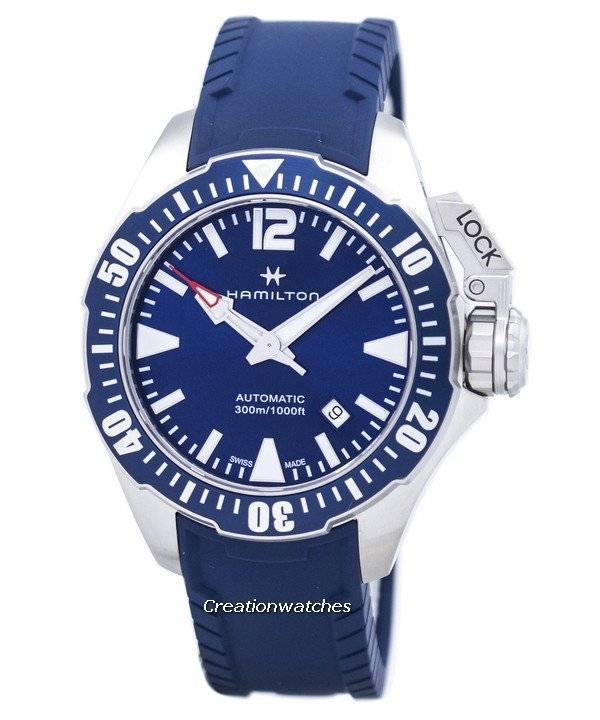 Among other key features expected from a first-rate diver's watch, all of them stay present in the Hamilton Khaki Navy Frogman Automatics. The tough and sturdy cases, water-resistance to 1'000 meters/100 bar and helium-release valves – there's all that you need for saturation/deep-sea diving. The crystal is sapphire with an antireflective coating and the locking crown guard is immediately noticeable, hinting at their serious diving abilities.
The solid case-backs bear a scuba diver motif, which affirms the Hamilton Khaki Navy Frogman Automatic models' maritime association. It covers an H-10 caliber movement, with an 80-hour power reserve. That's absolutely essential when you are under the sea. The H-10 movement is originally an ETA with a reduced frequency (3 Hz/21600 bph from 4 Hz /28800 bph) to pack in more running power, which is double the duration any other standard mechanical watch can run on a fully-wound mainspring.
However, the flagship version of the 2016 Hamilton Khaki Navy Frogman Automatic models is a 46mm beast, with a red bezel, a triple-row bracelet with smart-adjustment folding clasp, which features a convenient, stylish diving extension. The other four come in blue and black.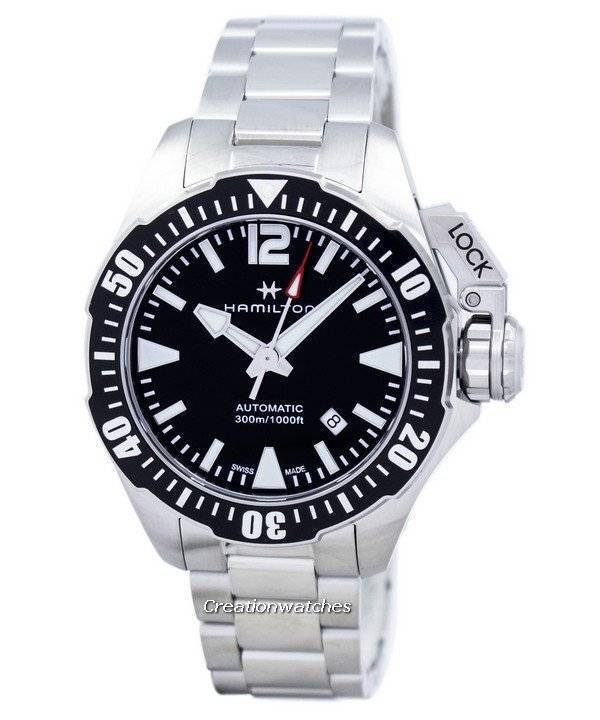 The Hamilton Khaki Navy Frogman Automatic watches are eye-catching salutes to a proud tradition set diving heroes, which also show through their dedicated, navy-porthole packaging box. In a market that's incredibly dense, Hamilton has locked horns with the highly acclaimed pieces in the category with a more casual approach and yet attracts no unfair comparisons when it comes to their versatility as daily wears.
Leave a comment below if you think you need some more lowdown on the Frogman. Next day, we will focus on the Ray, Mako and a couple more.