Seiko Watches is a very large Japanese watch company that pioneered the use of automatic or kinetic watch movements which decreases the environmental impact of using batteries. Automatic watches are watches that are self winding, drawing energy from the movement of the wearer's wrist. Usually automatic watches have the ability to store energy such that the owner of the watch does not have to wear the watch daily in order to keep it working. When Seiko watches are at full power, they have up to 75 hours of energy. The movements in these watches are quite complex and, as such, the prices of kinetic watches are not cheap. Neither are the watches ultra-expensive either unless they have other high end features.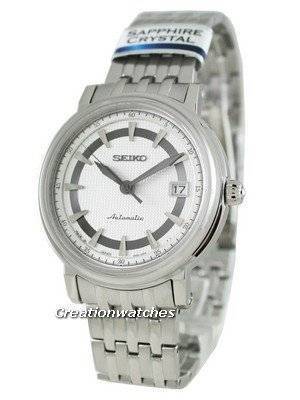 Perfect Balance of Elegance and Functionality
Seiko Automatic Watches come in all different styles, sizes and price ranges. Seiko tries to cater to all price markets, from those who purchase a watch at the local department store to those who purchase a watch as a piece of prized jewelry. The most common automatic Seiko watch is the Seiko 5, a watch made with 21 jewels that is available pretty much everywhere and is used as an everyday watch. The price is typically less than $60, so it is within almost any budget. This particular style of watch has a very classic look with a smaller crystal diameter (38 mm) than is currently considered 'stylish' for formal wear. These watches claim that they are water resistant, but of course they are not diver's watches, so conventional wisdom says that you should be careful with them around water. The watch band is standard and can be replaced with a more stylish expensive one, but it is a very pragmatic choice in watches.
Popular Yet Affordable Choice for Divers
Seiko also carries automatic professional diving watches. One of the highest rated is the Orange or Black Monster Dive Watch. Made with a vented rubber wrist strap, a hardlex crystal and either an orange or a black dial, this watch is water resistant up to a water depth of 200 meters. It is not as feature full as other dive watches, but has the basic features needed for divers. Although the luminosity of the hands does not last very long, the hands are very thick and can otherwise be visualized easily. The bezel is smooth and has a ring that has 120 settings (every half minute). The ring is serrated which allows a diver outfitted with neoprene gloves to turn it easily.
Killer Watches with a Great Value
Other Seiko automatic watches include their high end Sportura and Velatura models. The Velatura is highly rated by owners and includes the ability to hand wind as well as allowing the automatic winding feature to take over. Customers also love the look of this watch. Most high end watches are purchased for the look of the watch and not for the functionality. The Velatura has a 'direct drive' feature where you can turn the crown of the crystal and it will begin to charge the battery. There is a kinetic rotor that also stores energy so that you don't have to wear the watch all day, every day. It is very accurate at 15 seconds per month (+/-) and, as far as high end watches go, is reasonably priced.