Lookback I||Lookback II|Lookback III
All right, no point in beating around the bush. Let's get straight into the most important aspect of a watch: The movement.
It's quite surprising to know that the Swissmatic movement is machine-made (mostly) and is an evolved version of the Swatch Sistem51; essentially an ETA caliber C10111. More about that some other time; for now, let it suffice to know there are a total of 51 movement parts, 19 pivot jewels, five modules, and only one screw,.
Turn the watch over and you'll be able to see its somewhat familiar movement ticking rhythmically. The Swissmatic movement is a new take on Sistem 51 by Swatch, with more metal components than the Sistem 51 of which, the full metal winding rotor is the most visible one.
A major difference with any standard mechanical movement the Swissmatic holds is   its longer power reserve (three days/72 hours) but the caliber ETA: C15.111 doesn't really display any traditional finishing. Instead, you get aesthetics that are sharp and precise; whatever is there is neatly done and pleasing to the eyes. It leaves a possibility open for us to see this same movement in Swatch watches too, in the distant future.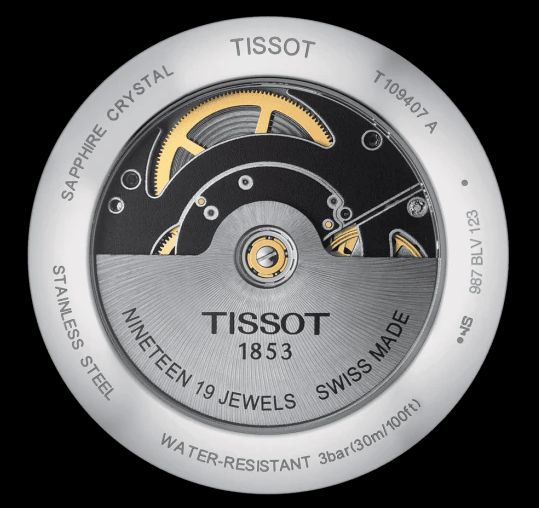 Is that going to be a good thing or a bad thing? Before answering that question, let me ask you something. Which side of the coin holds more value? Could you tell me that?
Let's say, one of the sides is good and the other side not so good. On the good side, Swatch and Tissot succeeded in finding a way to produce an automatic Swiss movement at a very low price. On the other side, it's technically an automatic Swiss movement alright, but it's not a hand-finished, traditional Swiss movement per se with the classic craftsmanship.
Does that mean the Swissmatic holds no value? Nay, never say that; you'll be comparing apples to oranges. Traditional value and technological value – well, they can't be equated; at best, they can merge. Traditional excellence achieved through modern, cutting-edge technology – now that tends to give a thing a different value altogether. We are not talking about that either at this point of time.
Value' such watches bring are immense, in exchange for an equally immense price. For others – how much ever it hurts – there's a certain amount of compromise that stays attached, which is chiefly, aesthetic. However, for the Swissmatic movement (as well as the watches), the design overall are minimal and clean, with nothing too fancy to spoil the show.
Those who are already finding themselves to be stuck in the middle of this debate, to them; there's only one thing I can tell:
Buying the Swissmatic is a way to own a Swiss mechanical watch (all the usual connotations applied) which won't disappoint you. If you are a fan of the Sistem51, it'll be an added privilege.
Let's see the uniqueness Swissmatic offers for its price, which is a fair price.
Price is definitely one of the biggest selling points for the Swissmatic seiko 5 watches. Their price points make them unique, given the interesting movement inside. While the movement doesn't make them the best watches in the market, but within the price range, it can be said – arguably – they are best in their category. No way a traditional Swiss watch, but the Swissmatic do offer a glimpse of where the industry (or a part of it) is headed towards. It gives rise to a whole new value proposition; one of its own kind.
Therefore, while Seiko 5 excellent reputation fortifies the idea that you can never go wrong choosing a Seiko 5 for its unmatched value (compared to similarly priced watches) and the fact that it certainly stands up very much to the standards of most entry-level – maybe even more expensive Swiss watches – the Swissmatic, while being quite far from the perfect Swiss watch – holds a prominent and respectable place in the modern watch market that's different from the conventional.
The world of mechanical watches is a wonderland of variety and engineering marvels. It's not possible to make you understand everything about it with just mere explanations; instead, delve into the mesmerizing, ingenious complications and designs both these brands offer to make a real sense out of it.
Keep dropping in to leave your replies below. State which one you like the most and what for?