The Epson conglomerate finally took Orient in and it's nice to see the brand succeeded in retaining its basic principles. These high-quality Japanese watches came for reasonable money and they still do; whether it's an absolute novelty or an exotic piece been around for long.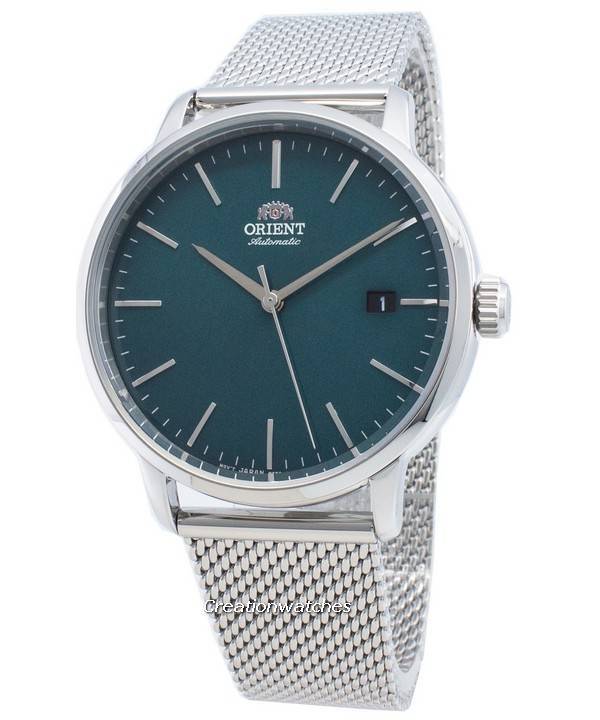 The novelties in question are the Maestro-s from the Contemporary collection from Orient; an early dose of spring just in time when dreary winter is about to leave. These two newest additions – the Maestros – feature subtle colorways and are equipped with exquisite, stainless steel mesh straps. Defined by simplicity, its subtle details are barely noticeable individually but as a whole, they bring these watches to life!
For instance, you may take the faint sunburst effect on what otherwise appears to be a matte finished dial. Or, the mirror-like polish of the sandwich-styled case; of its hour markers and hands. Orient took the design details ahead a step by keeping the date wheel color same as that of the dial, bringing a sense of parity and uniformity into the whole mix. These small details lend themselves to create the overall elegant appearance of these watches.
Inside these watches is an Orient caliber F6722 automatic movement allowing hand-winding and seconds-hacking, which is a great aid towards most accurate time setting. It can run for 40 hours at a stretch on a fully wound mainspring, for which, if you do not want to wind it manually, you got to wear it for a few hours every day for about a week.  
The Milanese-style mesh bracelet holds the case with its transparent back cover curved around the edges to rest firmly and comfortably on the wrist.  It creates an elegant, casual style while appearing a classic at the same time that's fit for everyday use. If it stops, you may either move it in swirling motions for a minute or turn the crown a few times to make it run again.
A low-key design and a neutral choice of materials and colors makes the Contemporary Maestro watches to be worn with anything and in almost every way and everywhere. The little inflated shape makes the watches look like a pebble with the protrusions and indentations interestingly created to house the mechanics inside tight; so as not to let any jerking toss it around the insides of the case. It can be used in shallow water for short spans and even for outdoor sports like tennis and golf, but not for diving or playing polo.
All in all, you'll be stunned with the abundance of simplicity and sumptuous materials in the Contemporary Maestro; its finish bearing the characteristics of costlier, luxury models. It flaunts understated signs of aristocracy through its refined details, brought to its form skillfully and polished to make the light glide like thick honey over the watch's surfaces.
Watches mentioned in this post are listed below. Click to see details and buy them: