Long story short:
With the Orient Sports Automatic Diver's 200M Power Reserve series, Orient has succeeded big time in putting together some very decent watches with a reliable movement.
The problem is…
There are actually very few watches that you can fall for without knowing anything about the brand.
And an answer to that is…
The Orient Sports Automatic Divers' are just that; they are impressive, got solid looks but that aside, the chief reason they are a favorite to many is because they are the diver watches with all the essentials that you might look for in any diver. Compared to higher-end, higher-priced diver watches (Seiko, Omega and the likes), the Orient Sports Automatic Divers' is a competent contender and stands as Orient's current flagship diving watch. Get your hands upon one (or one upon your hand) and you'll find a lot of good things to say, not just about its in-house, mechanical Caliber 40N5A auto/hacking/winding movement and its surprisingly good track record.
Prime points:
Comfortable
Attractive
Functional
A workhorse
It starts with being a suitable alternative to the pro-level Orient Pro-Saturation Diver, which is a bit overwhelming for recreational water sports. It's also suitable for the beginner undertaking a pro-level course in any water-related activity. It is equally useful and gel well with the world outside the water. The Orient Sports Automatic Diver's 200M Power Reserve Japan Made watch is built to handle the harshness of vigorous, outdoor recreations; whether on land, in moderately deep waters or way high up in the air.
An excellent and cheaper Japanese mechanical movement: Not something to brag about
That's the most basic thing Orient promises, so no points about that. It is reliable and accurate, has no quirk other than gaining or losing few seconds daily (5 to 15, both ways); that makes it quite a wonderful watch!
Straight to the centre of a watch-loving heart:
Big and heavy, shiny yet functional; they are solid, damn manly pieces as well! Face the Orient Sports Automatic Divers' watches with that injected-with-masculinity look and feel!  It is a reliable watch till depths up to 500m; 550 max. There is no helium-escape (release) valve, which indicates it can't be used for saturation diving. But with a casing so tight, it's hard even for helium to seep by! Corrosion resistant thick steel and sapphire crystal communicates well to each other, setting into a firm embrace that's immune even to salt water. It's a diver-friendly feature (speaking broadly), where quality is the only determinant.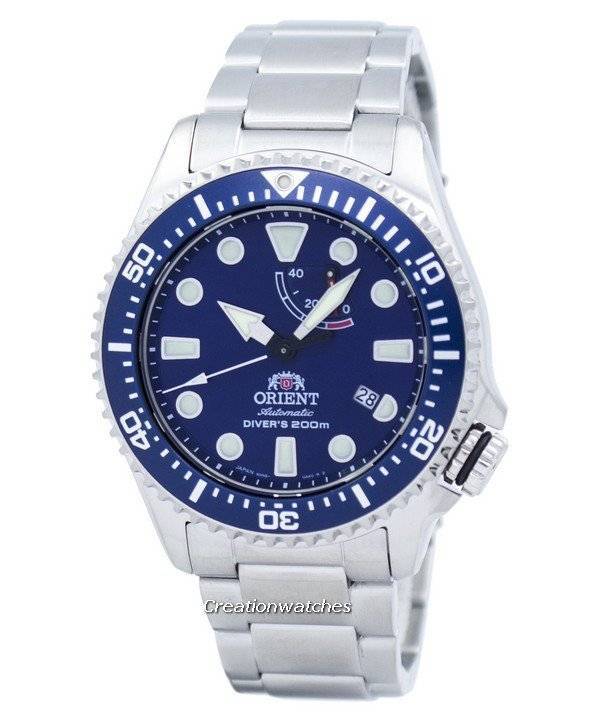 The watch bracelets are bigger to fit over diving suits; a concept that works better this time because Orient approached the problem better. It's an adjustable clasp now that fits and locks better into its place; extra room allows it to ratchet back when needed. Like a pair of handcuffs that you can remove yourself. It clings, otherwise.
End of story:
Living with the Orient Sports Automatic Divers' is easy and are highly recommended as daily wears.
Watch (es) mentioned in this post are listed below.  Click to see details and buy them: