The Invicta Pro Diver Chronograph has moved ahead this time and has earned their identities. Not just the most important (arguably) part of the watch, Invicta had put their heart and brains into it besides all those muscles. It is a timekeeping device with a traditional feel but without the need to wear or wind every other day.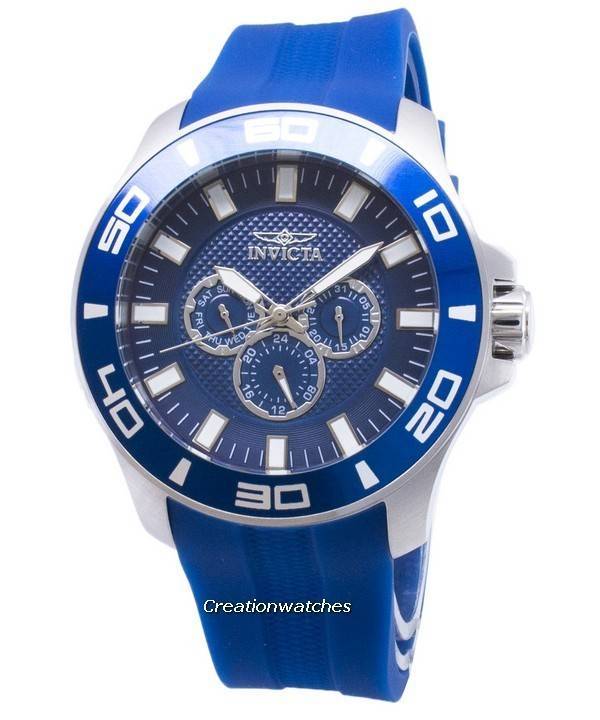 Among a few adorable preferences I got for quartz, the caliber VH63 is certainly, undoubtedly; one. 9F was the first quartz movement to enter this realm. The precision and simplicity of the 9F is what drew my attention; for the VH63, it's that (to a great extent) and the sweeping seconds! Four ticks a second isn't too bad a count, its torque almost matching that of any high quality mechanical movement. That brings an improved seconds-hand precision through a greater positional accuracy.
The VH63 is assembled in the Seiko facilities in Japan and there's no other way other than admitting that they've indeed done a more than decent job. This is certainly one way to redefine quartz; packing higher performance with greater durability. Even that aside, the movement is the real star of the show to me. The SII (Seiko) VH63 has 2 jewels and a 3-year battery life. I've already mentioned its mechanical-like ticking beforehand; what I didn't is that it delivers a mechanical feel without sacrificing the upsides of a quartz caliber, namely – accuracy, robustness and reliability. The VH63 outperforms any standard Swiss-made stock movement (e.g. Ronda 515); in the sense, a gain of 1 second every fortnight is not bad at all!
The new Invicta Pro Diver is a grower, just like mechanical watches are. Don't expect to be blown away by it right at the first glance. You'll gradually grow in appreciation for the small nuances of design and the level of craftsmanship, which is truly surprising for a watch costing so less. It is an exciting design formula that you can't find a single fault with. Same goes towards its built; especially, to the case and the lugs. In a market saturated with diver watches that look more or less similar with little individuality to bank upon, the new line of Pro Diver watches have really pushed the boat out for small-budget buyers.
And….there is a sapphire crystal! Who on earth would expect one at this price range from a watch that wasn't built in Japan?
The last thing (but certainly not the least) I'd like to mention here is the aluminum bezel which, in my very, very humble opinion, is a very thoughtful approach by Invicta. Being a lightweight metal, it keeps the overall weight low while delivering all the strength the watch will require amidst an unforgiving environment.
Click the links below to buy a few of the new Pro-Diver watches built by Invicta.