If your watch reads WR in bars and not in meters, multiply it with 10. Next, subtract 10 from it and that's your approximately equal in metres. So 10 bar means 90 metres. If in ATM (atmospheres), it is roughly equivalent to a bar.

Bulova claims proprietary ownership on accuracy! I, too, jolted when I heard something this drastic; but wait – no – what the fellow meant is: Precisionist, often regarded as the most accurate timekeeping technology and mechanism (that's my interpretation, anyway; on this Precisionist thing) is Bulova's own. An extra shot of emotion brought all that trouble.
Indeed, I think its fair to be excited when the 1/1,000-second chronograph hand is whirring faster than your eyes can follow. What I asked was – Does that precision hold over the whole 12-hour frame? Precision to within few seconds a year is still okay; we advanced in timekeeping technology that much. This enraged him, almost. But familial settings got one advantage; you just can't get brash about anything, not too soon. This eased off the initial fuming and got the chance to handle one of modern watch world's excellent creations. All I can say is it brought back my lost interest on chronographs. Splitting time to 1/10th, 1/100th and 1/1,000th seconds without looking like a tech-zombie is very much possible.
First, on the looks. It comes in stainless steel – that's okay – but a curved crystal? Many days I haven't been near one of these; it was much delight, as much as seeing the multi-layer, black, carbon-fiber dial. However, these two somewhat turn dim at the sight of the red, sweeping (almost mech!) seconds-hand. It's smooth as hell, aligns perfectly with the markings and represents a part of an extraordinary level of timing-accuracy of the  torsional resonator movement. It's the floating type, with anti-gravity properties. That also has something to do with the accuracy.
I don't want to go much into the design, style and the esthetic details for opinions vary; all that can be said is the Precisionist's style and technology has expanded to meet expectations of a vastly diverse global audience. Let's see the movement instead.
The Bulova Precisionist torsional resonator movement is a fine example of custom-engineering. Regulated not to flinch beyond ten seconds a year, at its heart is a three-prong quartz crystal (an upgrade from the twin-s) vibrating at 262.144 kHz, which is, eight times the vibrational frequency of traditional quartz. So far, this is the highest any watch could reach. Lab tests show Precisionist movement technology and construction is thrice more accurate than standard quartz technology and its embodiment in 316L surgical grade stainless steel. That's nothing special, though; if you are giving a quality watch, it's a sin not to put that in. The rest i.e. carbon fiber and Duramic™ nylon/ceramic composite are also great stuff; we'll soon get to discuss about composites and then we will get to the Duramic, Duratect, Super Titanium et al. All in good time.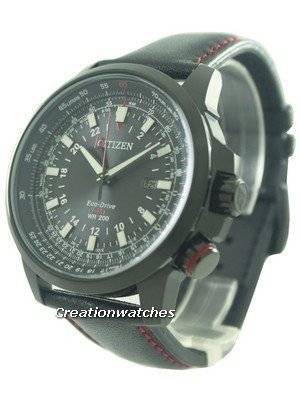 Last year, at the time of the approaching Fall, Citizen Watches were setting the grounds for some tasty and interesting offerings. The whole idea was to keep aside the Summer styles and indulge into some very unusual formats highly unlikely to Citizen. It ignited the enthusiasm of dual-time freaks and aviation Pro-s and the distinct character of the Citizen GMT Eco-Drive watches – with their deep aviation roots – shows through its ease of reading and a fair number of oddities. A true companion to anyone flying intercontinental or has something to do with a different time zone or two, it goes unsurpassed even when the daily life is concerned. Even though there are many markings on the Pilot's face, they don't crowd the watch face as they were supposed to. However, if you want things bit toned down, go for the BJ7085-50E instead. It won't give you the convenience of the logarithmic scales of the slide rule (for the calculation of distances, time, fuel consumption and a few other more), but unless you go for long road or air trips, this valuable mathematical tool is of almost no use. Of course,  it looks good and you are free to go if it's only that point you'll be buying it for. You will love the way everything stays distinct and clearly visible.
Both the watches feel thick, heavy and solid, but the hefts are very comfortable on the wrist. The slide rule of the Citizen Eco-Drive Power Reserve GMT Pilot holds a commanding presence that's appreciated in situations that do not not even relate to flight operations. But truth be told, anyone with an appreciation towards and particular about wearing watches shall grab both. That way, you'll wear your style both in formals and casuals without being vastly different. Consistency is a rare art and the BJ7085-50E helps
to maintain it well; its compass slide rule bezel surprisingly conceals its presence and never shows unless you really want it to.
The biggest plus point about these watches are their indices are widely oversized and their lume perfectly bright. When down to 200m under the water, it helps a lot. Or, under the pitch-dark sky.
Both the crowns are screwed-in; one helps adjusting the hours, minutes, date and the second time-zone while the other moves the slide rules. The Eco-Drive B877 movement is the same as it is in Citizen's NightHawk range. To know how the Caliber functions, see here. The movement exhibits spot-on accuracy, both on regular timekeeping and second time-zone.
Who should go for it other than the Pro-s? All right, that can be anyone looking for some extra zing to a watch that's different from the run-of-the-mill chrono or alarm.