Seiko Kinetic Chronograph SLQ023J1 is a terrific sportura collection watch. This watch has fantastic black dials with anti reflective sapphire crystals and red – orange accents. This watch is really a quality sports watch. It uses the unique SEIKO kinetic movement, with instant reset mechanism for high-performance time-keeping. Its case is made up of high quality stainless steel with a black ion-plated ring between the case and glass. The 9T82 calibre of this watch is unique in form and functions. This also watch has an energy depletion forewarning function i.e when the second hand starts moving at two-second intervals instead of the normal one second intervals, the watch will run down in approximately 12 hours.
The stopwatch function of this Seiko Sportura Kinetic chronograph watch can measure up to 12 hours, 6 minutes and 12.2 seconds in 1/10 second increments. This watch also has chronograph features. This watch also has a tachymeter and an alarm function. This watch is equipped with anti-glare sapphire crystals. It has power reserve as well as overcharge prevention function. The dial layout of this watch is different from all other chronograph watches. This watch has 5 separate dials. Each dial displays different information. When the watch is fully charged, the watch will keep operating for approximately 1 month. This watch also has an energy depletion forewarning function. The watch remains accurate even while the second hand is moving at two-second intervals. This watch is made in Japan and its water resistant is 100meter.
Seiko Sportura watches come in trademark quartz and kinetic movements. Seiko kinetic movement propels the hands and the various functions by converting energy from the wearer's bodily movements. An additional elaboration on the kinetic movement includes a self-regulating mechanism that stops the hands when the watch is left unused for a long period of time, but keeps track of time inside the caliber. When moved again, the watch automatically resets itself to the current time, and continues to run as if nothing happened!
Click here for more details: Mens Chronograph Watch
Some Important Features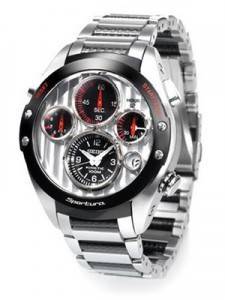 Chronograph
Metal: high-grade stainless steel with a black ion-plated ring
Movement: Quartz-kinetic
Seiko Sportura Kinetic Chronograph
Caliber: 9T82
Limited edition
Water resistant 10 bars
Made in Japan
Comes gift-boxed with an actual gear from a Formula 1 Race Car
This watch is available for USD 3,399.00 with us.
Click here for more details and to purchase it: Seiko Kinetic Watch