For Citizen, a watch like the Eco-Drive Atessa Satellite GPS is their take on making high-end technology more accessible to the mass, instead of staying a rather exotic item. The downside is it will make the atomic-synch watches seem almost like dinosaurs, but there's no doubt you can beat anytime a so-called smart-watch with a timepiece like this. It's self-sustaining, more autonomous in nature and as long as you don't feel lazy to feed it some light, you can find your watch automatically updating itself through the years and the latitudes and longitudes.
Citizen watches took their GPS-control technology up a flight last year, in 2015. The 2014 models underwent some serious revamp this time and the Citizen Satellite Wave World Time GPS F150, showed up with a different case, a different dial (with different functions) and an upgraded movement.
The Citizen Eco-Drive Atessa Satellite GPS is what one might call a watch with true GPS functionality.  Prior to 2015, the Citizen GPS-technology allowed GPS signals to update and synchronise time but not update the location of a watch. So, first it used to be selecting a time zone for the global positioning satellite data update time and date-related information. Rival watch brands offered this functionality, so Citizen had to work on it to stay at the competition. But to tell the truth, they went ahead of it and packed in all that within a slim watch profile. Now we may call it a true GPS watch, since now, it allows updating the time-zone automatically.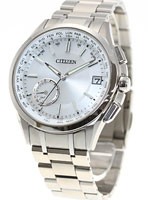 The Citizen Atessa Satellite is currently the slimmest among the rest of the GPS-watches in the industry. The eco-drive feature ensures it never runs out of power while making the updates or in middle of a function. Fully charged, it will run for almost two years with the functions engaged on a regular basis. It takes just three seconds for the watch to receive/acquire GPS signals under an open, clear sky.
Apart from the GPS-synched time display, the Atessa Satellite also offers a perpetual calendar, with the day of the week indicator on the dial. It also shows the GPS signal strength and the amount of power left in the battery. Those aside, there's the world-time feature, which denotes time in 40 different time zones and in 27 reference cities. You get a daylight savings time indicator along with but without cluttering the dial. It's surprising the way Citizen fits them all in and still retains such a minimalist look! It makes a hi-tech product to be embraced by the lovers of traditional looks and conservative appearance, which is to say – it is built to appeal to the mass market and not the handful always up for unique designs.
Watch(es) mentioned in this post are listed below.  Click to see details and buy them: