The Origin:
Many among us watch lovers often indulge in fantasies regarding watches with all the bells and whistles that make for a watch lover's dreams. It is not possible without the interference of digital technology and that makes it unsuitable to go with a suit. Casio, however, seems to be listening to our collective pleas, so they developed the high-end, analog-dialled MTG. The MTG is a G-Shock no doubt, but its way ahead from its league. The G-Shock MT-G stands apart with its cool case design and pivoting lug structures, just the way it's expected to be in for a high-end metal G-Shock, meant for them who love the usual G-Shock but do not like their plastic/resin built; more so, their digital interfaces.
Casio G-Shock Tough Solar Radio Controlled MTG-S1000D-1A Men's Watch
An idea and its formation:
The MTG has an analog dial that's every bit technical but attractive enough to fit into formal settings. It's the magic of metal that makes it the G-Shock to transcend from the outdoors to the urban life without losing any of its utilitarian charms; its edge! It cuts into the realms of lifestyle and fashion unlike the typical G-Shock that was previously denied an entrance. Wearing a G-Shock doesn't remain a private experience anymore. Its compatibility to semi-casuals, suits or more formal attires takes it to social gatherings, meetings – even dates and weddings! If the Swiss needed a sharp reply, this is it.
Think: Difference
MTG is modern and complex. Computer-generated designs inspired its tech-friendly case. A mix in stainless steel and resin, it's what you won't get among the restrained, conservative types. Neither the high-end feel! This is something that might make quite a few Swiss watches attempt emulation. Even digital purists to sway with its stately, mature aura!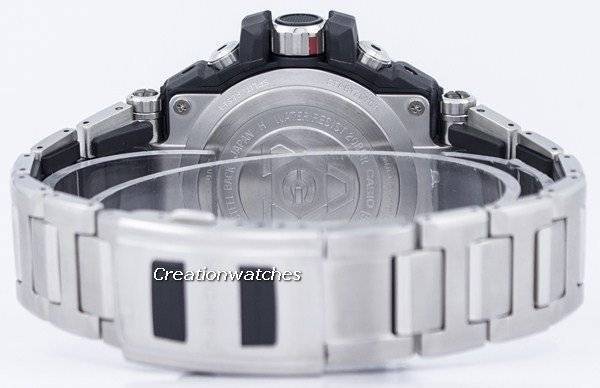 Tech talk:
The Casio G-Shock MTG houses the Casio caliber 5369 movement. It is one of those remarkable Tough Solar types; an impressive, complex beast from Yamagata, Casio's very high-end production facility. Making power from light and running a connection between six atomic clock radios spread globally to catch signals and establish absolute accuracy are its prime points. Also the world-time function and an automatic calendar; the 1/20thsecond chronograph, the countdown timer and the alarm come much later. They are a breeze to use after you go through a strict learning curve.
This metal G-Shock gets a case that absorbs shocks much more than standard stainless steel cases and the alpha gel does the rest.
A higher-end, all metal luxury watch for enthusiasts whose demands for peak performances don't sacrifice the aesthetics, it makes sexy Swiss swagger trip at times. Overall, a classic looking, sporty dress watch with the values and philosophy of a G-Shock, for an interesting group of people!
Watch(es) mentioned in this post are listed below.  Click to see details and buy them: