December 23, 2010

Watch Gonzo

0
The GX-56 employs all the features of the basic construction of other G-SHOCK watches while introducing a new twist on the shock-resistant design by using functional materials to cover every part of the watch. Casio's newly developed double-layered urethane-resin bezel covers the case, button areas and watchband bindings with soft plastic, which is then overlaid with hard plastic. This construction not only absorbs shocks, but also keeps mud or dust out of the watch. Along with these features, the plastic inner protector encasing the timekeeping module is cornice-shaped to provide a high degree of structural resiliency, and a shock-resistant gel material has been fitted to four points of the watch face at the 12, 3, 6, and 9 o'clock positions. In addition, the watchband is connected to the case and buckle by screws to provide even greater reinforcement against shocks.
Of course, the GX-56 is also equipped with Casio's Tough Solar power system, which runs the watch on energy from either sunlight or fluorescent light. The GX-56 comes in three models: black with a white LCD readout on a dark background; black with a gold LCD; and an even more striking orange with the white LCD readout. The GX-56 features a bold design that takes the individuality of G-SHOCK watches one step beyond with a shape that practically explodes with presence.
Casio's G-shock watches are well known for toughness & technology and are literally way ahead in competition. One of the latest launches in this category is Model GX-56. The World has gone crazy for this Model. Both hard & soft urethane has been used for higher level of shock resistance. Hard urethane gives external protection while soft urethane surrounds the module of the watch to give internal protection. Soft urethane expands and contracts to absorb the impacts to protect the delicate module. The inner protector is so designed that it doesn't interfere with the readability and also covers the face as much as possible. A GEL is also implanted at 3, 6, 9 & 12 o'clock for inner protection. The combination of shock resistance property of the protector and the resilience of the GEL together takes the toughness of this G-Shock to the next level. The case size of GX-56 is the largest ever 55.5 x 53.6 x 17.5 mm. The volume of the watch works out to be 52059 cu.mm.
Click here for more details: Casio Watch
Some Important Features: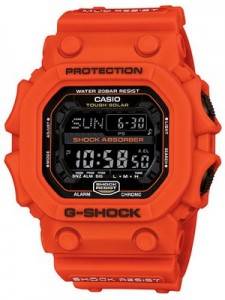 Resin Band
Full Auto EL Backlight
Solar Power
World Time 48 cities
Stopwatch 1/100 sec 24 HR
Timer 24 hour
Daily Alarm, Hourly Time Signal
Snooze Feature
Battery level Indicator
Power Saving
Full Auto Calendar to year 2099
12/24-hour Timekeeping
Operation Tone On / Off
Regular timekeeping : Hour, minute, second, pm, month, date, day
Accuracy :±15 seconds per month
Shock Resistant
Mud Resistant
200m Water Resistant
Mineral Glass
Size of case : 55.5 X 53.6 X 17.5 mm
Total weight : 88 g
This watch is available for USD 155.00 with us
Click here for more details and to purchase it: Casio Men's Watch