July 16, 2010

Watch Gonzo

0
The built-in sensors of this Casio G shock Riseman watch measures barometric pressure, temperature and altitude. Measured values are then shown on the display. Such features makes this watch useful when hiking, mountain climbing, or when engaging in other such outdoor activities.  The electricity generated by the solar cell of the watch is stored by a built-in battery. The watch continues to operate, even when it is not exposed to light. This watch receives a time calibration signal and updates its time  setting accordingly. This watch is designed to pick up the time calibration signals transmitted in Germany(Mainflingen), England(Anthorn), the United States (Fort Collins), China(Shangqiu) and Japan(Fukushim). This watch adjusts it time setting automatically in accordance with a time calibration signal.  This watch also has Time Calibration Signal Reception function. There are two different methods you can use to receive the time calibration signal – auto receive and manual receive. When auto receive , the watch receives the time calibration signal automatically up to six times a day. Manual receive lets you start a time calibration receive operation with the press of a button.
This Casio G-shock Reiseman watch also has altimeter function. The watch's altimeter uses a pressure sensor to detect current air pressure, when is then used to estimate the current altitude based on ISA present values. You can specify a reference altitude, which the watch will use to calculate your current altitude based on the value you specify. Altimeter function also include storage of measurement readings in memory.
This watch also uses a pressure sensor to measure air pressure and a temperature sensor to measure temperature. The world time of this watch displays the current time in 33 cities with 29 time zones around the world. The stopwatch lets you measure elapsed time split times and two finishes. This watch has four one time alarm and one snooze alarm. The display of the watch is illuminated using an EL panel for easy reading in the dark.
Click here for more details : Casio g shock men's watch
Some Important Features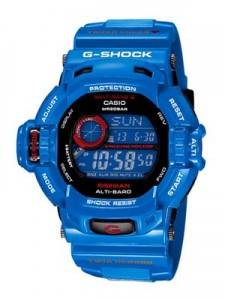 Made In Thailand
Wave Ceptor (US, EU, JP & China)
Shock resistant
Solar powered
Altimeter function
Barometer
Thermometer (Celsius)
twin shock air pressure & sensor capable of measuring temperatu
Tough Solar
World Time :   33 world cities (29 time zones) display time with daylight saving time  setting function
Stopwatch:  1 / 100 second, 24 in total, with a split.
Countdown timer (Countdown Max: 24 hr)
Daily alarms 5 independent daily alarms
Battery power indicator
Power Saving
Auto-calendar
12/24-hour format
Electro-luminescent backlight
12/24 hour display switching
Full automatic
Mineral Crystal
Water resistant 200 Meters
Size:  51.0 X 48.9 X 15.9 mm
Weight  62.0g
This watch is available for US $326.00 with us
Click here for more details and to purchase it :  Casio G shock Riseman