To say that the Citizen Skyhawk is an amazing watch would be an understatement. The Citizen Skyhawk is а rugged, technologically advanced flight chronograph watch with numerous functions and features.
The Citizen Skyhawk's features include 'Atomic Time Sync', 'Eco Drive', 'Japanese quartz movement', 'Perpetual calendar' and a highly accurate chronograph. The Citizen Skyhawk features a stainless steel bezel incorporating a slide rule feature, anti-reflective, scratch resistant mineral crystal over a large elegant dial face. The hour and minute hands are covered with luminous chemical that makes it easy to view the time even in exceptionally low light conditions.
Built to last, the Citizen Watches requires absolutely no maintenance and it would be very rare for you to require any after sales service. The Citizen Skyhawk incorporates the famous perpetual calendar meaning, it even takes into account leap and non-leap years. Although it is an analog function, once set, the calendar does not need any adjustment.
Atomic Time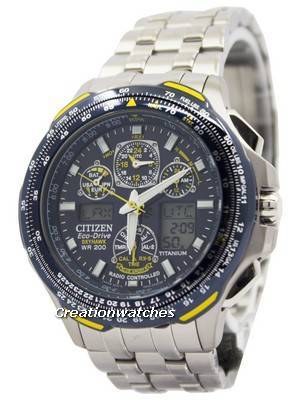 The Citizen Skyhawk incorporates an advanced radio receiver which permits it to receive broadcast from the nearest atomic clock. The received time broadcast is compared with the actual time displayed on the watch and any variation is automatically corrected. This also allows it to be in sync with various time zones through which the user might be travelling. You no longer have to adjust the time.
The Citizen Eco-Drive
The Citizen Skyhawk Eco Drive features the famous Citizen Eco drive technology. A solar cell located directly beneath the dial face, gathers any available light and converts it into electrical power which is then used to recharge the battery. The Citizen Eco drive technology is so effective, that even a candle light will suffice. The user does not have to change any battery.
Watch Movement
The Citizen Skyhawk incorporates the Japanese quartz movement which has proved to be so reliable and accurate, that 95% of all watches manufactured today incorporate the Japanese quartz movement.
Stainless Steel Case
The Citizen Skyhawk comes encased in a large 48mm stainless steel case. Weighing 2.4 ounces, it has a solid and rugged feel to it. It also incorporates advanced shock resistance technology and is also water resistant up to a depth of 200 meters.
Additional Features
The Citizen Skyhawk Flight Chronograph has dual alarms, multiple time zone sub-dials, rotating slide rule bezel that can be used to calculate your exact position on earth, day of the month display that requires no adjustment, а 99 minute countdown timer and аn accurate 1/100 second chronograph.
All in all, the Citizen Skyhawk Flight Chronograph is an appealing, built-to-last rugged watch that incorporates the latest in watch technology. So if you are a watch collector, a person who loves to be seen wearing fashionable watches, or someone who has need for accurate timekeeping, then the Citizen Skyhawk is a good buy. Wear it or gift it, the Citizen Skyhawk will be much appreciated.