The latest radio controlled chronograph watch from Citizen. Time adjusted automatically and accurately through radio control. Citizen skyhawk is the 3rdgeneration watches, skyhawk watches appeal everybody attention. For better protection sapphire crystal glass is used on the dial. This glass has been coated or one or both sides with a solution that lesson reflection and glare.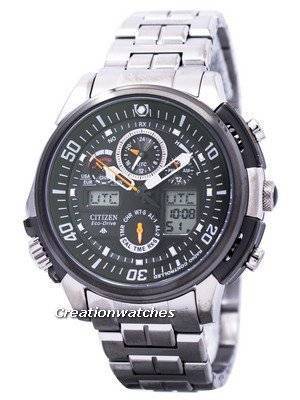 This is chronograph watch, the measurement can be seen on the subdials, or counters, which may register seconds, minutes, and even hours, and are started and stopped at the press of a button (stopwatch feature) A watch which requires you to push multiple buttons or demands too much focus is more of a distraction than a useful piece of aviation equipment. This Citizen Eco-Drive Watch itself is really nice. The number, hand and markers are clearly seen on the dark background. The watch is very well balanced and feels solid. The case diameter of this watch is 31mm and the case thickness is 13mm.
A radio controlled watch that uses a special radio signal to synch up with a government maintained atomic clock. Each radio controlled watch is pre-programmed to check the time synchronization radio signal 3-4 times per day. This watch is very solid because it used titanium material. The bracelet is titanium and is very comfortable. With this radio controlled watch you will never have to worry about updating the time. This Citizen Skyhawk watch is quick and easy to glance at and read. Overall, this is extremely good looking watch with eco-drive technology.