The world of fashion is dominated by some famous names, many of which have been around for as long as we can remember. These are designer brands that endure, and they do so because they continue to innovate and inspire, and to provide quality that is second to none. The world of watches is similar: many brands have been in the market for decades, and some have taken on an iconic status that lends them an air of importance. Take Calvin Klein Watch: not only does this long-established fashion house offer a superb range of designer clothes each season, it also lends its name to a range of quite stunning watches.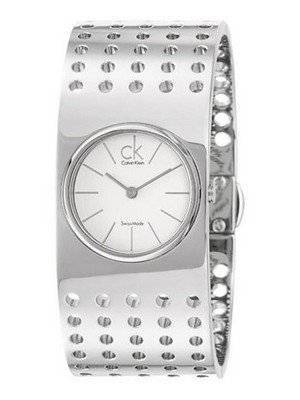 In fact, it is the womens watches for which Calvin Klein is most famous, and at Creation Watches we take great pride in making sure we have a good selection on offer at all times. For example, there is something quite stunning and unmistakeably modern about the Calvin Klein Hypnotic Swiss Made K5424108, a superb design that takes the traditional watch and gives it an entirely new style. The swirling, sensual styling is inspired by contemporary jewellery, and the effect is one that is quite unmistakeably unique.
While the ladies watches from Calvin Klein set the standard for innovative design and originality it is a fact that men's watches tend to be more traditional in design. Have a look, for instance, at the Tissot range, one of the most impressive and classy of all. Tissot's range of men's watches centres around a beautiful collection of chronograph models, each of which combines stunning, modern technology with a sense of the timeless look that typifies the classic mans watch. These functional and stylish designs, worn with a simple designer suit, make the very best adornments for men that money can buy.
Designer watches make a statement, just as a designer outfit does. Wearing a classy, stylish watch says a lot about the person you are. It is often said that you can tell a lot about a man by his shoes, but it's also possible to learn plenty by looking at his watch. Furthermore, you do not need to spend the earth to buy a classic designer watch. Modern manufacturing techniques have brought precision, quality watches into the mainstream, and there is plenty for everyone to choose from. Make sure you look carefully at the watches you like, and you will find the right one for you.