Casio men's watches manage that magical duality. This Casio PRG-500T-7V Men's Watch is fashionable and rugged enough for men to appreciate and want to wear them. This watch is having so many feature that anyone would like to own this. The best feature is that it has a full auto LED light and afterglow so that you can easily read the time even in the dark places. This Protrek watch is a solar powered watch. There is no need to change the battery. It has low temperature resistant of -10 C/14 F. The Digital compass measures and displays direction as one of 16 points. Its measuring range is 0 to 359 and the measuring unit is 1. The hand indication is of north side. Other features of this Watch Casio are it has Magnetic declination correction and Bidirectional calibration and northerly calibration functions.
This Casio Protrek Men's watch has the great functionality. Men want to be able to enjoy normal physical activity while wearing a watch and with this Casio Protrek Titanium they can do just like camping, mountain biking, gardening, free diving, swimming ect. Because this Casio Trek watch has much functions like Barometer, Altimeter, Thermometer, Countdown timer and Daily alarms. The size or the weight of the case is 56.8 X 49.3 X 14.3 mm/112.8 g. This Casio men's watches understand that men are constantly torn between comfort and functionality and wanting to look good for the ladies.
Click here for more details: Casio Watch
Some Important Features: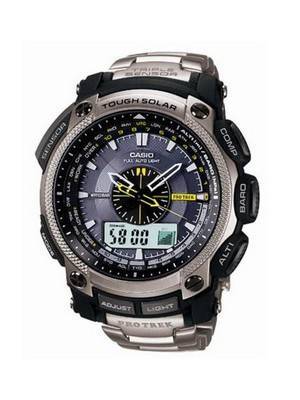 LED light
Full auto LED light, afterglow
Solar powered
Low-temperature resistant (-10 C/14 F)
Digital compass
Measures and displays direction as one of 16 points
Measuring range: 0 to 359
Measuring unit: 1
20 seconds continuous measurement
Hand indication of north
Bidirectional calibration and northerly calibration function
Magnetic declination correction
Barometer:
Display range: 260 to 1,100 hPa (7.65 to 32.45 inHg)
Display unit: 1 hPa (0.05 inHg)
Hand indication of pressure differential
Atmospheric pressure tendency graph
Changeover between hPa and inHg
Altimeter:
Measuring range: -700 to 10,000 m (-2,300 to 32,800 ft.)
Measuring unit: 5m (20 ft)
Hand indication of altitude differential
Manual memory measurements
(up to 14 records, each including altitude, date, time)
High Altitude / Low Altitude memory
Total Ascent / Descent memory
Others: Reference altitude setting, Altitude tendency graph
Changeover between meters (m) and feet (ft)
Thermometer:
Display range: -10 to 60 C (14 to 140 F)
Display unit: 0.1 C (0.2 F)
Changeover between Celsius (C) and Fahrenheit (F)
World time:
29 time zones (29 cities), daylight saving on/off
1/100-second stopwatch
Measuring capacity: 59'59.99"
Measuring modes: Elapsed time, split time, 1st-2nd place times
Countdown timer:
Measuring unit: 1 second
Countdown start time setting range: 60 minutes
Countdown start time setting range: 1 to 60 minutes (1-minute increments)
Daily alarms:
5 independent daily alarms
Hourly time signal
Battery level indicator
Power save function (automatically disables LCD if the watch is left in the dark for approximately 60 to 70 minutes, and sensor measurements if the watch is left in the dark for six or seven days)
Full auto-calendar (to year 2099)
12/24-hour format
Button operation tone on/off
Regular timekeeping
Analog 3 hands: Hour, minute (moves every 10 seconds), second
Digital: month, day, day of the week
Accuracy: +/-15 seconds per month (with no signal calibration)
Approx. battery operating time:
6 months on rechargeable battery (operation period with normal use without exposure to light after charge)
23 months on rechargeable battery (power saving)
Size of case/total weight: 56.8 X 49.3 X 14.3 mm/112.8 g
This watch is available for US $334.00 with us.
Click here for more details and to purchase it : Pro Trek Casio