For all the men out there who are looking for something very special to buy that special lady, take a look at this simply stunning watch, the Calvin Klein Element K5023416; this really is an amazing design, and one that comes from a designer fashion house that is never out of tune with the times. Seriously, though, have you ever seen a watch so simply amazing? It's as if the CK brand has taken the basic idea of a watch and presented it as nothing other than a gorgeous, glorious item of jewellery; this is watch design that is as fresh as it gets.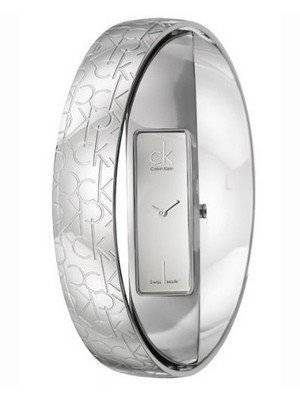 The beautiful stainless steel bracelet – delicately engraved with the Calvin Klein logo – is a masterpiece of modern design, a gorgeous take on the classic, timeless bangle – and looks quite splendid on the wrist. The watch itself is almost reduced to a bit part, the pretty rectangular face with minimalist styling sitting within the bangle itself in a fashion that is original, innovative and utterly brilliant. This is designer watch-making at its very best, and it is a perfect among the Womens Watches for party season and beyond.
All of this is not to say that the watch is an irrelevance, far from it in fact; the timepiece itself uses a high quality Swiss quartz movement that is accurate and offers precision, and combines reliability with function in a fantastic case. With 30m water resistance this classy and extremely stylish watch comes highly recommended, and the silver face is as pretty as it gets. Calvin Klein Watches have produced a ladies watch that is at once great to wear and stunning to look at, while not leaving behind the purpose of the device – to tell the time. It is a classic of its genre, a seriously impressive take on modern watch design that is hard to match.
Usually the association with a designer brand is an excuse to extract higher prices for lesser quality; paying for the name is no unusual in fashion circles. Calvin Klein is a band that has a certain reputation for quality and style, and this great watch exudes both. It is also surprisingly affordable at just $175.00, which we at Creation Watches think is one of the best bargains of the moment. Ideal as a gift for a loved one, this is a watch that will be treasured forever, and one that is simply timeless in its execution.