SGW-300HD-1AVDR is the watch from Casio having many features for the demanding person. This Casio Protrek is best for the people, who enjoy serious mountain climbing or leisure-seekers such as those who like trekking and car camping. The Protrek series of outdoor watches make the most of Casio's cutting-edge sensor technology to measure and display all sorts of natural data. The elapsed time can be measure with its 1/100-second stopwatch, which has the capacity to measure up to 24 hours. You also split the time and note the 1st and 2nd place time.
The time is displayed in both 12 and 24 format. This Casio Watch has the accuracy ±30 seconds per month. Moreover it gets hourly time signal which increases its reliability.
This watch has a good battery life, which is near about 3 years. This Casio Trek is a multifunctional watch with Countdown timer and multiple daily alarms. You never need to set the current date at the end of the month having 30 days because it has full auto-calendar up to year 2099. It has LED light, afterglow and Button operation tone on/off. Unlike other watches it also equipped with thermometer which works in the range of -10 to 60°C or 14 to 140°F.
Click here for more details: Men's Watch
Some Important Features: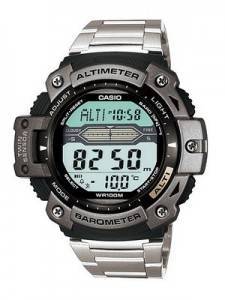 1/100-second stopwatch
Measuring capacity: 23:59'59.99″
Measuring modes: Elapsed time, split time, 1st-2nd place times
12/24-hour format
Accuracy: ±30 seconds per month
Approx. battery life
3 years on CR2016
Full auto-calendar (to year 2099)
Button operation tone on/off
Countdown timer
Measuring unit: 1 second
Countdown range: 24 hours
Countdown start time setting range: 1 minute to 24 hours (1-minute increments and 1-hour increments)
Daily alarms
5 independent daily alarms
Hourly time signal
LED light
Afterglow
Low temperature resistant (-10°C/14°F)
Thermometer
Display range: -10 to 60°C (14 to 140°F)
Display unit: 0.1°C(0.2°F)
*Changeover between Celsius(°C) and Fahrenheit(°F)
Size of case: 49.2 X 50 X 14.1 mm
This watch is available for US $79.00 with us.
Click here for more details and to purchase it : Casio Watch