Garmin Instinct Flame Red: Experience Energy Explode!
About the two brands
The sports and outdoor market holds both G-Shock and Garmin in high regards. Both the brands are built with and upon modern technology and focus on features and functions more than artistic aesthetics. They don't stick with tradition; the reason that gets them ignored by most watch connoisseurs. They are respected and revered only among specific circles, prioritizing extremely high-visibility, feature-rich timepieces with unbeatable durability.
Garmin and G-Shock are two outstanding, multi-functional players in this segment with their individual, specific strengths and weaknesses, which need to be under one's thorough evaluation for a better grasp on their suitability.
You'll find Garmin and G-Shock history strewn all over the Web; avail any if you want to know how they originated. Both; however, arrived almost at the same time – in the '80s. G-Shock arrived in 1983 while Garmin in 1989.
G344 Special Edition: One of the last few!
Proficiencies and implementations
Garmin: GNSS technology is integral to Garmin devices. It's their proficiency that landed Garmin a contract with the U.S. military. By the turn of the new millennium, GPS reined almost the entire GNSS sector. The current lineup of GARMIN watches; too, bring you this navigational feature, along with two others. They also feature a slew of activity tracking functionalities. These are highly admired by people who train outdoors; especially for the three different navigation systems reined up in single units! Athletes, too. Their quick transition into the smart-watch market has opened up new doors to premium, smart timekeeping.
G-Shock: The fame of G-Shock is way more among young people, who are sold on its absolute durability! They are way tougher than Garmin-s. Those who prioritize upon extreme toughness and shock-resistance find a G-Shock watch indispensable. Their prices are also more consumer-friendly and the price bracket is highly flexible, ranging from entry-level to premium, tool-grade watches. The drawbacks are their large, rugged build (that's often not suitable for urban usage) and not every G-Shock is GNSS-enabled. Those with GNSS connectivity are MOVE and Rangeman. Functionally, these two are equal to Garmins; now, it's, about the kind of look that you prefer!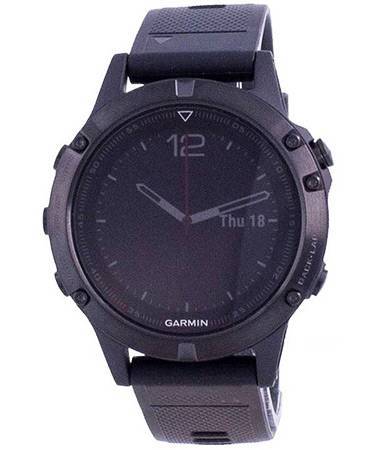 Garmin Forerunner Fenix 5: Premium multi sport GNSS watch
Prime strengths
Garmin: GNSS technology today can calculate your 2-D position (latitude and longitude) and track your movements. That, however; requires a GPS receiver that can lock to signals from 3 different satellites. What we usually get in the GPS-enabled watches are links to the US system of 31 satellites. On the flip side, data regarding location/position from GPS can be made significantly inaccurate by the deliberate application of universal selective availability (SA) by the US military. Positional accuracy; however, with GPS is better on and around the Equator.
But there are also other satellite systems:

GLONASS

from Russia and

GALILEO

from Europe. The European constellation gets added with more satellites from time to time, thus offering higher potentials for an increased (10X) accuracy. It is a civilian-managed system, with an ability to deliver real-time position for its users. Its accuracy is

+

1 meter from actual position of the device/user.

GLONASS

(

Global Navigation Satellite System

) comprises 26 satellites (2 static, 24 orbiting) providing real time position of the receiver and its velocity (if moving). It's more accurate

at higher latitudes either North or South;

the different positioning of the 

GLONASS satellites than GPS does that.
The

Galileo

navigation system is capable of two-way communications (device to satellite and back). It was one of the reasons given for developing Galileo as an independent system. The full Galileo constellation will consist of 24 active satellites by the end of 2021, with their next generations up and ready after 2025. They will replace the older equipment, retiring them as backups.
Garmin incorporates receivers to receive signals from all three, offering a more reliable analysis of your position.
Alongside, all Garmin watches are Solar-powered; charging them up doesn't require any extra effort.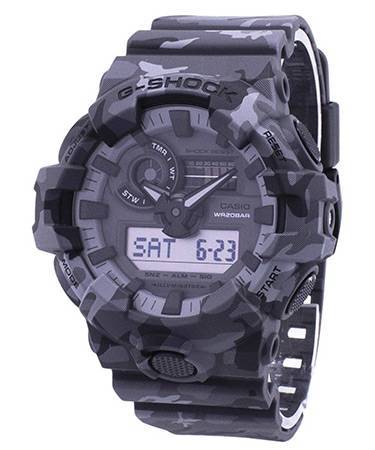 Casio Illuminator G-Shock:  Light at the flick of your wrist!
G-Shock: When it comes to G-Shock watches, you can always expect a top-tier build with an outstanding durability. However, Casio has only two line-ups to contend with Garmin. It received the training measurements and analysis algorithm by Firstbeat Technologies (which is also used by Garmin) and also displays the physical recovery rate. They, however; useall three GNSS systems but only in two of their models.Additionally, all G-Shocks are not solar powered

; though majority are but without any power-saving mode, unlike Garmin.
Garmin Forerunner 35: Your perfect, everyday, smart watch
Conclusion: Who wins?
Just stating GARMIN would have been easier, but that would be denying everything that G-Shock gave us so far, including in the war-zones, where Garmin wouldn't have lasted for even a year.
So, get a Garmin if you like a smart watch with a ton of features to help you travel light during adventures; or if you are inclined more towards fitness and if you find big, bulky watches uncomfortable. For G-Shocks; well, if you run a chance of venturing into warlike situations every now and then. In that case, you will definitely carry a separate GPS device. If not, then Rangeman and MOVE, as stated earlier, are your best choice.
We've explained why you can't really compare between the Garmin and G-Shock watches. Click on the links below to see a few of each.