January 25, 2011

Watch Gonzo

0
This JP110-00W is great diver watch. It has both analog and digital display. This Citizen Diver watch  is equipped with electronic dept meter. The diving with this watch is really very safe. One of the wonderful feature of this watch is that it automatically enters the diving mode when it senses water on its water sensor. This is automatically done without any operation and all diving functions become ready for use. After a dive begins, diving time, present depth, maximum depth and water temperature are automatically measured and displayed. This watch also provides a log data memory function which can be used to store the data for 4 dives. There are different dive alarm functions are available. One alarm function alerts the diver of excess speed in ascending; if you ascend too rapidly during a dive, the alarm sounds. This watch also has highly reliable water resistant for use at depths of up to 200 meters. This watch also has low battery warning indicator and this indicator is automatically activated when battery approaches to end of life.
This Citizen Promaster watch also has chronograph function and auto return function. This watch provides two different alarm functions the first one is Depth alarm function and the another is Dive time alarm function. This watch also has various alerts functions such as Ascending Speed Warning, Abnormal Depth Alert and Water Sensor Check Alert. The water resistant of this watch is 200meter.  This watch also has full auto calendar. It has stainless steel case and rubber band. This watch has Unidirectional rotating elapsed time bezel. This watch also has rapid ascent warning function. Its movement is Ana-digi Quartz movement. This watch is really good diver watch for men. It's diameter is 44mm and it's thickness is 14.5 mm. The weight is 108g. The Luminous paint is applied to the hands of this watch for use in dark areas.
Click here for more details: Citizen Watch
Some Important Features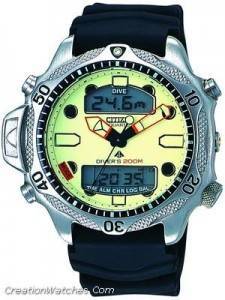 Ana-digi Quartz movement.
Professional Divers Watch.
Underwater Depth Display Down to 260 Feet – 80 m.
Water-temperature indicator (-5C~+40C).
For diving: Log memo (4 dives).
Depth alarm.
Dive time alarm.
Maximum depth indicator.
Dive time(up to 100 minutes).
Rapid ascent warning.
1/100 second Chronograph Measures up to 24 Hours.
Alarm.
Full auto Calendar.
200m Water resistant.
Case
Screwdown crown and Screw Caseback.
Unidirectional rotating elapsed time bezel.
Hardened Mineral Glass.
Stainless steel Case. Rubber Band.
Battery
Battery Life: About 2 years.
Low battery indicator.
Dimensions
Diameter: 44mm
Thickness: 14.5 mm.
Weight: 108 g.
This watch is available for US $230.00 with us.
Click here for more details and to purchase it : Aqualand  Diver Watch