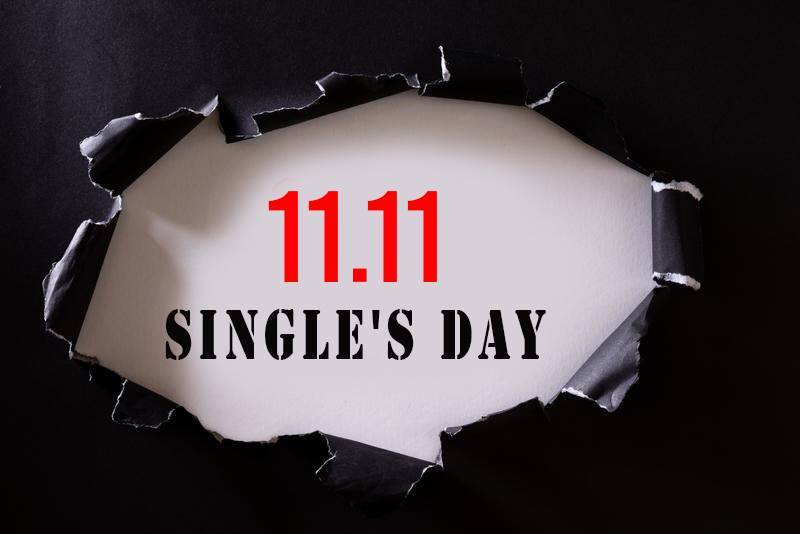 This space is not to provide advices about singlehood or what singles should do about it, apart from bringing under notice a few things you could do while you're still single. One of those is getting something small but immensely useful that would part ways only if you are trying for it with desperate deliberation. Strike the iron while it's hot; with the entry of a second decision-maker, possibilities are this simple task would transform into a gargantuan undertaking, if not impossibility. (Read more…)
Quite strange, it is but it's just another opposing fact related to the Bachelors' Day, 11 November (11/11). The day – according to Wikipedia – …started out as a Chinese unofficial holiday and shopping season that celebrates people who are not in relationships.
Why is the date, 11 November (11/11)? Numeral 1 resembles a stick, bare and aloof. In Chinese, they call it guānggùn – Internet slang for an unmarried man; a hooligan or just a plain bachelor. The single stick does not add branches to the family tree.
The four '1's abstractly refer to the singles' demographic on the other hand.
Oh, the paradoxes! We explained one. Explaining the other one is bit difficult. 11/11 is a popular date to celebrate relationships as well! More than 4,000 incidents were recorded on 11/11/11 of couples tying the knot in Beijing, greatly surpassing the daily average of 700 marriages a day that year! UK residents, you must see how November feels like for the same event. March is still far off!

W

HAT UNDERLIES SINGLEHOOD?
As evidenced, the shortest answer would be – A plethora of reasons!
Singlehood is a complex phenomenon with more than one causal explanation or structural factor. The reasons for being single are also associated with gender and age but surprisingly, it is less of a hypothetical exercise if you look close into one's wearing habits!
A

GUIDED TOUR TO THE SINGLE'S MIND
So, it's not at all unnatural to feel a bit baffled on this day; whether you are to buy for yourself or for someone else who is also single or for breaking both yours and the other person's singlehood – the decision must not be taken single-mindedly.
Or, maybe you are just trying to break the singlehood of two singles on the Single's Day! That asks to discard the mindset even more.
Irrespective of your purported desire to convey your heart's content unto others', our humble effort towards spreading the platter so that you don't land up in a fix or in some other deeper issue. It will help you choose easier if you don't move too far from the recommendations.
Singles are not always an obsessive-compulsive lot suffering from inferiority complex.
Any reasonably respectable watch is good for a normal, single guy or gal, the only restrictions being:
You don't gift a gal's watch to a boy or vice versa unless he/she asks for it or you know about his/her preferences thoroughly.
There's no point in getting a watch (in fact, just anything) which you know shall never, ever find a purpose with its wearer. Not in a thousand years!
Steer yourself (and others) to new directions!
There's no hard and fast rule that an opera-goer will never be taken away by wanderlust. Maybe that Casio.G-Shock is the trigger to jump his/her dormant instinct to an awakening. It applies to every single around. So take a pick at your heart's will if you're picking for yourself; that pick might take you into a direction you never thought about formerly. Don't be shy of a dainty, diamond-encrusted, gold-tone timepiece even if you prefer testosterone-addled monstrosities to always adorn your wrist. For, singlehood gives you the chances to experiment; get curious, inquisitive and learn..
"What timepieces do you own?"
Never ask that question to the single person whom you're gifting a watch. Your question will give the impression of a cowering human trying to spoil the receiver of the gift out of a helpless fear!
All right, let's say you got no time to follow all that above and instead; want to take a quick dip and come up with whatever your hand can grab upon! Here's a pool of
names that will take care of both your honor and wallet.
Casio G-Shock & Edifice
The safest bet for the active singles who visit the gym on a regular basis, play some sport, clean their own places and vehicles and live with pets.
Citizen
A virtually endless range of automatic and solar/battery-driven quartz watches that offer simple timekeepers to highly capable and functional watches any tech-minded human would love.
Seiko: Makes for that vital touch irrespective of a diver's or an executive's suit. As dress-wear, some of them hit way above their ranks.
Tissot: A handful of them are enough to satisfy the pickiest individuals in terms of style and preference. Tissot has some wonderful pieces that exude class, culture and clarity of communication.
Orient: This would be true experimentation for someone who has always been into just mainstream watches. Orient  will shock you pleasantly big time and are also standout pieces that sit deep into memory.
Emporio Armani & Armani Exchange Fashionistas and executives into the club scene and participating in club-sports will find EA to be an excellent choice for the workdays and the weekends alike.
Invicta
Swiss watches that you'll be never afraid to use on a regular basis, there are excellent choices to be worn with casuals, smart casuals and even with a bit of formals!
Fossil
None questions the style and élan put out by the Fossil watches. For an young adult, Fossil just hits the right notes.
Diesel
Big, bright and assertive, the young singles like Diesel very much.
SevenFriday
Perfect industrial undertones for the 40ish singles, it will be a part of their work and play.
Hamilton
This Swiss brand with an American heritage creates some of the finest pieces excellently suitable for the 40+ single.
Raymond Weil: Raymond Weil is a very popular brand for them willing to enter the upper-mid range Swiss market and creates quiet sturdy pieces you won't be afraid of banging upon a hard place once a while.
Bulova: When you find someone has owned too many Citizens or you want a Lexus instead of a Toyota.
Skagen: Danish styles, plain and simple. A nice relief from complicated dial designs when you just need to keep track of time.
It's always classy to match up the watch with something else worthy and long lasting; for example, writing instruments or sunglasses. They make for a complete package. Brands like Oakley, Rayban, Lamy and Mont Blanc are good for making inexpensive, sensible choices.
Keep dropping in to leave your replies below. State which one you like the most and for what?