Chronograph fans rejoice, here's a big load for you right down your throat! You shouldn't have problems falling head-over-heels in love with the

PCAT

.
Some necessary information beforehand
PCAT! That doesn't read P-CAT; but P-C-A-T. It's an acronym for Perpetual Chrono Atomic Time. To the uninitiated, this will require an explanation, so here it is. Others may skip and go down to the next part.
Perpetual refers to the calendar i.e. the day/date functions.
Chrono means the chronograph or stopwatch function.
A-T is atomic time. Britannica says – "It's timescale generated by atomic clocks, which furnish time more accurately than was possible with previous astronomical means." For Citizen, the accuracy of their PCAT watches is 1 second deviation in every 20 million years.
What's so special about the Citizen PCAT?
One of the most distinguished watches till date from Citizen in the sub-$1000 segment.
It's one of the most expensive pieces from Citizen, starting at $650.
It shares spaces with other Citizen stalwarts like Promaster and Blue Angel, which are above the $800 mark.
What are we trying to see?
Whether the Citizen PCAT Radio Controlled Chronograph Atomic Eco-Drive watch really warrants the higher price tag than others in the league; not necessarily from the same brand. We'll take only three from the 20-odd variations in the line-up.
A general look at the series
First in short; then in details.
PCAT series, despite built on the same Caliber: E660 as some of the Promaster series watches – the Sky Eco-Drive, for example – is probably the most feature-rich among the entire Citizen Atomic Timekeeping collection, which is bad in a way. It's not appropriate for a sedentary life unless you intend to toy around with it at your leisure. Even then, you can't toy around with it fully. The real fun is in putting it under real tests. You can start with guided adventures at your local amusement park. As you advance through stages, you'll slowly find out the utility of its feature and functions. Many users report struggles in the early phase of using these watches is simply because they don't put them to real work where they apply. For new chronograph users, this one will take some time to get used to. Just don't hurry through the basics and everything will go fine.
Additional function of the PCAT is a second time zone indicator that's helpful for frequent travelers or in business with offshore clients. Once you get accustomed to what PCAT watches have to offer, moving on to something different won't be easy.
Now, to an extended discussion.
The Citizen PCAT watches are high-end timepieces exhibiting solid standards that promise and deliver a better overall experience compared to most others in the price range. We'll start with the Design.
Being a chronograph watch, it's big and the case sizes come under notice before everything else. .Sure, there are chronograph watches with thinner profiles but the rigidity you want for outdoor adventures isn't obtainable through a thin case. You need more metal to resist intense impacts. The PCAT thus looks better on people with seven-inch wrists or more. The metals (steel and titanium) are hypoallergenic and the crystals are anti-reflective sapphire; ultra scratch-resistant and enhancing the dial-view.
The Perpetual Chrono A-T collection uses the E660, a light-powered chronograph movement that shows hours, minutes and regular seconds apart from allowing unlimited use of the built-in features and functions.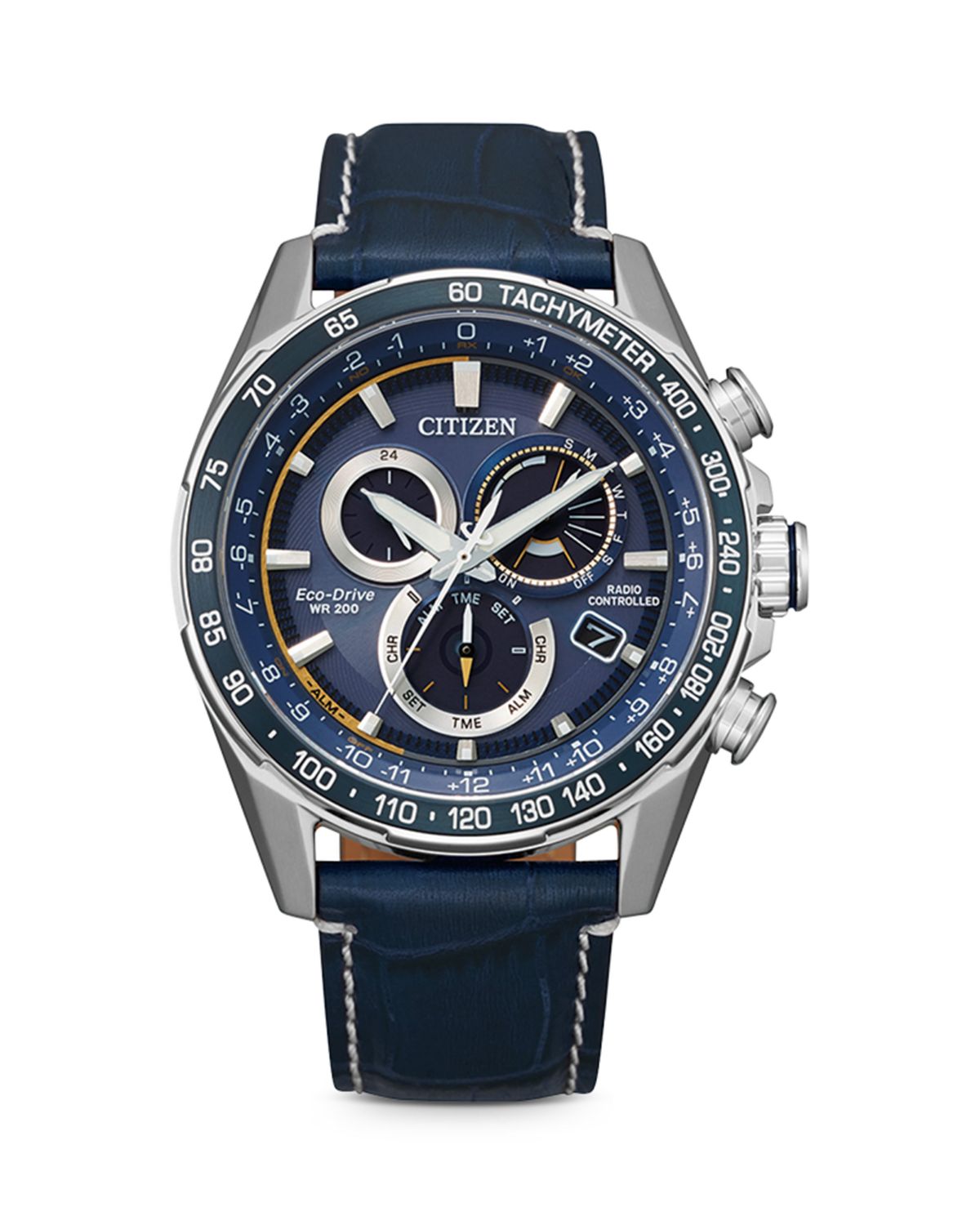 Cal. E660 is accurate to ±15 seconds (without time signal reception) and has a continuous run time of 10 months, which can be increased to 36 months with power saving modes turned on 24/7. It features:
A Chronograph: 1/1 second measurement for 60 minutes
An Alarm
An 'Insufficient charge' warning function (two-second jumps of seconds-hand).
An overcharge-prevention function.
World Time over 24 cities that displays the time and date for any of the 24 cities instantly.
Radio/Atomic signal reception from Japan, USA, China and Europe calibrate the regular time, the perpetual calendar and the world time functions once a day automatically or whenever you demand. Signal strength determines how fast your watch can respond.
Summing up, the Perpetual Chrono A-T- just when it seems to be going overboard it applies the brakes to a smooth halt, staying well within the feature-rich domain and avoiding fancy stuff that might look good but won't find use in regular life; for example, 1000m water resistance. Besides, this watch isn't meant for diving; not beyond 500- to 600 feet. They are expensive, unless you find a good deal with all paper-works intact, it might make you wait for some time before you get one on your wrist.
Leave a reply below stating which Citizen atomic time caliber you like the most.