Inexpensive is not a cheap, off-the-shelf watch with a Chinese quartz movement inside a gaudy, roughly-finished case and badly done details. But what do you call a well made watch that doesn't follow the normal parameters; made from quality materials and doesn't cost a bomb?
Gonzo asked us that question after the Rotolog showed up in the CW roster. Off late, he's been taking a fair bit of interest in the company using the name of the long-dead President and then, there's the name: Rotolog! "-Unlike many other exquisite and pathetic excuses for a timepiece, the Rotolog sure tickles the fancy to own a watch that's different to the extent of being wearable."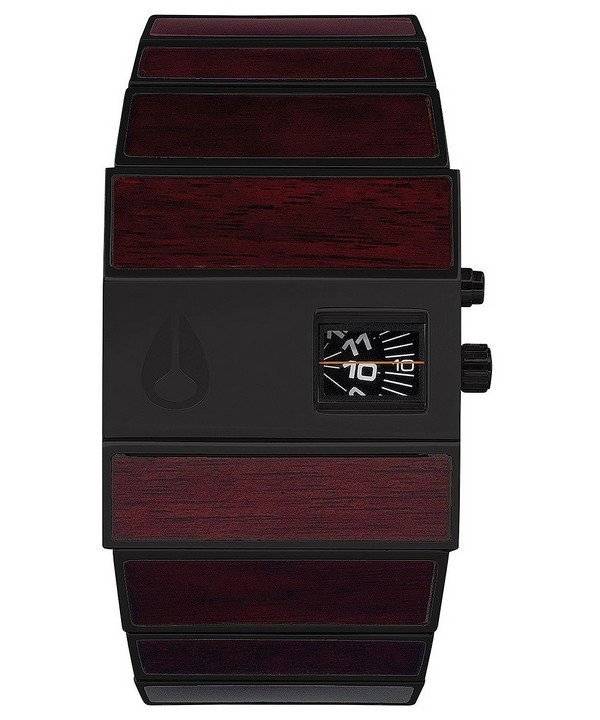 Those thinking about plunging into the watch domain right with something exclusive like the Citizen Promaster Aqualand Diver Eco-Drive Chronograph and yet has no plans to nearing the waters anytime soon might be delighted with the Nixon Rotolog Quartz. Even those who are bored with the standard watch shapes and looking for an alternative well within wearable limits! A Grand Seiko Quartz or the Hamilton Ventura Quartz is beyond doubt outstanding choices, but when shoestring budget is a concern, there's quite nothing like the Rotolog. Or so thinks Gonzo. They are commendable choices that aesthetically date back to the 1950s and '60s, but the Rotolog is also not among the plentiful.
The Nixon Rotolog – despite its wooden inlay and fine and delicate appearance is built to handle the rigors of daily wear efficiently, over a long period. It is endowed with artistic appreciations and acknowledgements for the craftsmanship that captures a different streak that's part vintage, part youthful; certainly not the cream of the crop but you can be doubtless about the Nixon Rotolog being one of the most original pieces that have been seen around in awhile. That's also for the Miyota custom direct drive quartz movement inside.
The wood finish is a vital aspect of the watch that makes it wearable. It is a much needed break from shapes and sizes you might have grown tired of. Designed after the mid-Modern period of architecture, the double-link, tapered stainless steel bracelet has inlays of dark wood and a butterfly clasp with a push button release. It works well with evening casuals in the shades of maroon and dark brown . Waxing the bracelet shall keep the fine scratches under check. All that makes it resemble contemporary dressing accessories. The rotating hour/minute discs with printed numbers and indices and the stainless steel top exhibits the quality imparted, both in terms of material and making. Even the etched Nixon logo is precisely done and the pusher-activated LED light properly aligned to the discs to provide a clear view.
Watch(es) mentioned in this post are listed below.  Click to see details and buy them: