Fans see the GODSEND in it; professionals too, curiously, try catching information floating around and about it. It is not the first watch you choose without even a clue towards what it is! Everything about the ICE-SAR Arctic XL from Luminox is built to the specs complying with the demands of the Icelandic Association for Search and Rescue. For them, adventure is reality; not just a state of mind.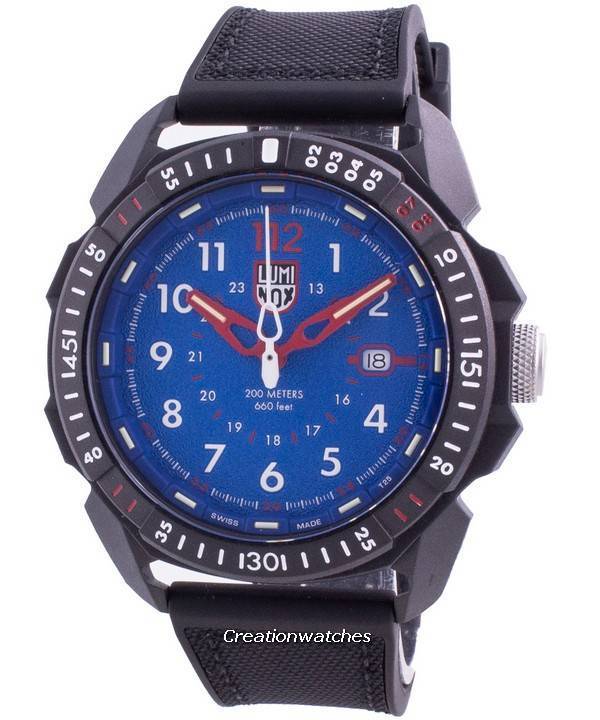 The  ICE-SAR Arctic XL is the perfect companion for ICE-SAR personnel involved into field work. Upon any and every path, its pairing of essential design elements with rugged durability mirrors the strength and agility of these military-inspired watches. Needless saying it handles everyday maneuvers in the city better than the most; its strength is in its pure, utilitarian design.
Ideally suited for the regular guy doing a mile under five minutes on foot; good with math, materials and machines or knows the snow by its smell. He may wear an ICE-SAR Arctic XL whenever he wants; even with suits and blazers. But he won't. He'll simply know that military and field watches are kept best out of the boardrooms and the banquets. Not the war room, though. You cannot pull off a military watch unless you are wearing fatigues or snow/rock-climbing gear. In that case, there are many dress and formal watches to deal with the issue.
However, you may still wear the Arctic within business settings outdoors.  They are designed to be worn while one is active, and unless your role in the golf or tennis court is that of a spectator, you need to be wearing something like this!
The SAR-ICE Arctic watches from Luminox are tough-as-nails, utilizing Tritium illumination and have been given the seal of approval by the the Icelandic Association for Search and Rescue. These timepieces are crafted to be indestructible up to a great extent; to face the harshest of nature's abuse and survive through.
The Arctic 1000 is also a formidable name in this context. Instantly recognizable as a Luminox by its dial layout, the Arctic 1000 watch sheds historic case designs behind and replaces with a uniquely beveled, case silhouette. The angular shape of the integrated bezel and sharply pointed lugs make it look like there's a lot of the ice-tools influence that went there used by ICE-SAR.
Both Luminox Ice-Sar Arctic 1000 XL and ICE-SAR Arctic XL watches are built with Carbonox, the latest of the brand's signature carbon fiber-reinforced polymer, 40% of which is in bar form. It is three times lighter than titanium and almost as tough and non-conductive. Your watch will not heat up or get cold with the fluctuation of atmospheric temperature.
As long as you keep moving, so will these watches. They won't stop because you wouldn't, either.
Below are given links to the Luminox watches discussed above. Click to see and buy: