The name Seiko was assumed in year 1924 and after the 43 year the company starts the production of first Seiko wrist watch. The Seiko is one most famous and Multi Design Watch maker Company in world. There are various brands are available in different category. In Seiko Watches there are various technologies which are using to make the watch by the Company. Today Seiko company is producing new brands for the people whoever are doing jobs and also for businessmen, students etc.
The Seiko Velatura Kinetic Perpetual SNP103P1 SNP103P Men's Watch. This pretty sporty and glamorous watch is from the collection of Seiko Watches. The best advantage of this watch is that it does not need the battery. This watch gets powered by winding the crown or by the motion of your wrist while you wear the watch.
This Seiko Watch is made up of Stainless Steel Case with Blue Hard Coating and Silicon band. It has Buckle clasp. This Seiko Velatura watch is having Kinetic movement, an extremely accurate electronic movement.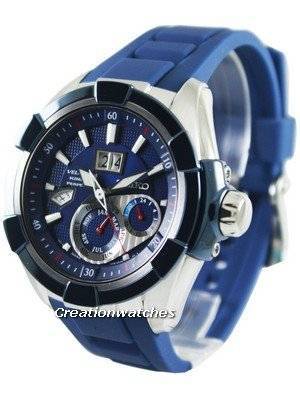 It's Blue Dial, Luminous hands and hour markers with date display giving alarm facility. Its working caliber is 7D48.This Seiko Mens Watch is 100m water resistant watch. Its Case Diameter is 46.3 mm and Case Thickness is 13 mm. This Seiko Velatura Kinetic Perpetual SNP103P1 Men's Watch Has Time relay System the time relay function automatically resets the watch hands to the correct time when the watch is reactivated after being in the energy saving function mode in which the hands don't move. The correct time is relayed from the IC to the hands which begin to move again. To activate your Seiko kinetic auto relay watch simply swing it gently. If the kinetic auto relay watch is fully charged when the power saving function is activated the time relay function remains operable for approximately 4 years
This fashionable, trendy, attractive watch will definitely suit on your personality. It's really a Great Watch with Great Features and Prices!!