Casio G-Shock has been setting the standard in toughness. Featuring models with Shock resistant construction that stands up to dropping and other rough treatment plus 200-meter plus water resistance, Straight off the name, its clear these watches were made to resist. Casio delivers high endurance and strength along with style and comfort, all for a reasonable price. By incorporating detailed techniques in their designs, the company leaves no stone unturned to ensure that you get the accurate and precise time, all the time. Though, strapping on a Casio watch is not just about counting down the minutes. The brand believes in breaking the conventional mould and translating ideas into futuristic products. From the technologically advanced, Path finding feature to the shock-resistant G-shock utility, there is so much more that comes packaged with these amazing watches.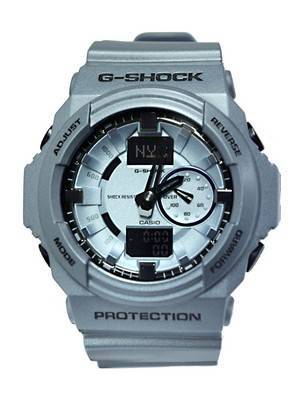 The Casio G-Shock Analog Digital GA-150A-2A Mens Watch is a shock-resistant men's watch for guys who are active and like to explore both land and sea. It boasts multiple digital displays that can tell you the date and time in any world time zone you choose. To further help you get organized, the G-shock also has a Full Auto-Calendar (To Year 2099). A great blend of analog and digital function, this G-shock also has a 1/1000-Second Stopwatch, a Countdown Timer, Hourly Time Signal and a 5 Daily Alarms (With 1 Snooze Alarm). The blue matte finish surrounding its round face gives it a sleek yet sporty look. The timepiece has a high function combination model featuring shock resistance and Magnetic Resistant for versatile utility.
This one's 3D features make it a unique ana-digi nothing like before. The chiseled, stone-carved appearance looks tough and gives a feel of solid power. It has concave dials; together with the half-gloss finish, the whole thing gets menacingly bold. The light and shadows of the Resin case and band of the watch play well with the metallic finish and brings a different kind of edgy, street-ness to appeal young people the world over. The dial protected with the Mineral Glass. It has LED Light and a 12/24-Hour Format with Regular Timekeeping. The water resistance of the watch is 200 mm and its Accuracy ±15 Seconds per Month.
Advanced engineering creates distinctive timepieces, and the model is one such example. A wristwatch is no longer just the instrument used to get the time. Over the years, it has evolved to be a highly stylish accessory which reflects one's sense of fashion along with serving its primary function.