Designing new watch faces to reflect the latest fashions is the key of Michael Kors. On the surface, the Michael Kors time pieces looks like a luxurious version, while some can look rather plain despite the high classic look, Kors made sure the design and the look was everything. Michael Kors does a great job with providing excellent sensual classic timepieces that seems effortless.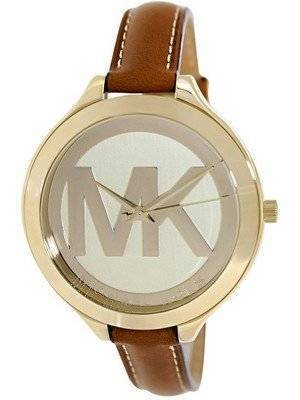 Give your wrist the luxe factor with cult-classic Runway watch—it will be an opulent accent to looks day or night. Perfect for spring, a smooth luggage-colored leather strap complements the Michael Kors Runway Champagne Dial with MK Logo MK2326 Women's Watch's shiny gold-tone stainless steel case. A light Champagne Dial with Large MK Logo takes it to a new level of chic. The Michael Kors Runway is a comfortable-to-wear women's wrist watch that offers its owner precise timekeeping. The case of this watch is made of stainless steel, and its leather strap provides a great fit. Some of the features implemented in this analog timepiece are 50 mm water resistant. The product is powered by Analog Quartz battery. The dial well protected with Mineral Crystal and giving it an exquisite look with a Fixed Gold-Tone Bezel and Gold-Tone Hands.
This timeless piece will keep you punctual, while the over-sized design and gold-tone stainless steel have borrowed-from-the-boys appeal. Wear it on its own for easy chic, or pile it up with your favourite bracelets for more-is-more glamour. Statement-making yet feminine, this watch mixes design influences to deft effect. With its over-sized links, sleek time-stops and chronograph accents, this timepiece conjures the spirit of a classic men's watch and the elegance of a chic timepiece, teaming it with a layered ensemble to add a bit of edge.
Tap into the trend with Michael Kors timepieces. Michael Kors watches are a must-buy for anyone with an eye for what they wear. Fall in love with this Michael Kors watch the instant it's on your wrist. While not made of ultra-luxury materials, this Michael Kors certainly has the luxury style and look down with extra class.