The Casio was established in April 1946. The Casio is famous watch Maker Company for their graceful alteration. The look of Casio Watch is great and fashionable for develop their personality and style as well. The Casio Company has been offering high-quality watches for buyers and when people choose Casio, they know they are having an excellent timepiece. The Casio Watches are known as their good quality in the market. The Casio 30th Anniversary Limited Edition GW-5530C-1JR Watch is one of this category watches and limited watch in the market. This Casio GW-5530C-1JR watches are superior quality watch as well it has multifunctional feature.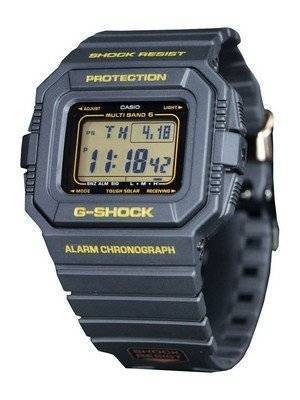 This Casio G-Shock watch is Shock Resistant timepieces. This feature protects the watch by the damages from shocks of any kind, vibrations, knocks and falls. The case and band for this watch is made from Resin. The basic features of these Casio 30th Anniversary Limited Edition watches are many features just like Solar Battery or Electra-Luminescent Backlight function, 12/24-Hour Format, countdown timers (Countdown Range: 24 Hour), Auto-Calendar, shows world time (48 Cities), Hourly Time Signal feature, and 200mt Water resistant. These watches come with many different colors. You can easily chose and pick the watch from this collection. The Casio 30th Anniversary Limited Edition Watches are extremely durable, tough sturdy timepieces which come with the wide range of sporty collections. These watches also offer 1/100-Second Stopwatch, Atomic wave, Battery Power Indicator, and Power Saving etc.
The Case Diameter of this watch is 46.2mm and thickness is 13.6mm. This type of watches are wear in all season and can go anywhere also you can use Casio watches in any conditions.