Citizen has relaunched the Satellite Wave as a member of the Citizen series with a whole new design, and some major improvements to the previous technology. Citizen's focus on precision led them to be the first to develop this technology, and since then they have been working on making the technology even better with improvements in each of the new models they have launched in the Eco-Drive SATELLITE WAVE series.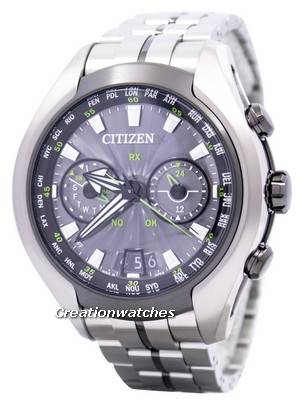 Citizen breaks the boundaries once again in satellite technology. The long awaited birth of the Citizen Eco-Drive SATELLITE WAVE has finally become a reality with the launch of the Citizen Eco-Drive Satellite Wave Air GPS Titanium Sapphire CC1054-56E Men's Watch in Titanium Case with black dial. True to its name, Satellite Wave-Air with Eco-Drive technology features light-weight titanium, ground breaking construction and design with a three-layered dial inspired by jet engines. Information gathered from satellite signals offers accurate time anywhere on earth with the Satellite Timekeeping System.
The Solar Powered watch with a Caliber H909 has fastened with Titanium Bracelet. The watch have accurate automatic Global Timekeeping via GPS with an accuracy of +/- 15 Seconds per Month. It also features 2 Years Eco-Drive Power Reserve with Insufficient Charge Warning including Overcharging Prevention Function. The watch have Perpetual Calendar (Until February 28th 2100) too with Day date display feature. The 24 Hour Display of the watch with a Luminous Hands and Markers and Sapphire Crystal with Non-Reflective Coating are the added features of the watch.
Despite its undeniable utility and sportiness, the Citizen Eco-Drive Satellite Wave Automatic Global Timekeeping via GPS is a handsome watch that one can find look utterly at home peeking out from the cuffs of a dress shirt and suit jacket.

A pleasure to wear plus the thrill of a connection to space, the latest Eco-Drive SATELLITE WAVE model combines the excitement of speed with cutting-edge technology. The watch embodies many core technologies into one inspiring watch.