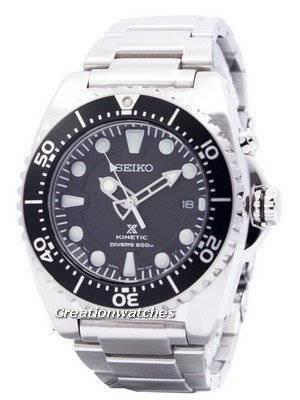 Seiko kinetic watches are constructed by the top most watch industry of the world, known as Seiko Corporation, and were first developed in 1988.The thought behind Seiko kinetic watch is the capability to convert kinetic energy into electrical energy. Kinetic watches gets power automatically while moving the wrist is in motion, the motion turns the timepiece to work.These types of watches should be cleaned in every 5 to 10 years so as to avoid nonfunctional and dirt accruement.
Kinetic technology is an advanced feature developed by this corporation. People like to wear the kinetic watches, and hence they are the biggest sellers for this brand, and its corporation as well. If you will purchase these Seiko kinetic watches, then you do not need to worry about the maintenance of these timepieces. You have not to replace battery of these watches.Also, these watches come with vacuum-sealed packed which is the good advantageous to protect the watch from the dust.
These Seiko kinetic timepieces do not use the regular watch battery. Thus, they are environment friendly watches, and work like a wonder for the environment. These timepieces make their own energy by the energy source. The Seiko Kinetic watches are made with bold designs and attractive looks. You can make yourself very fashionable after wearing this watch.
Have a look on this timepiece;Seiko Kinetic Diver's SKA371P1 SKA371P SKA371 200M watch. This Seiko watch has a much more features you can see clearly. This will be the best choice for those who want to develop their personality.