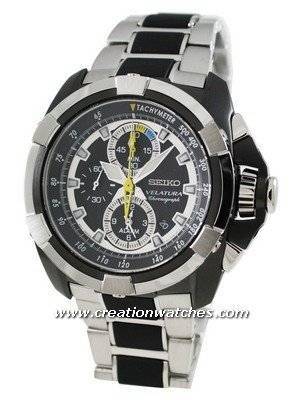 Seiko Corporation is one of the big name of wrist watch manufacturers. His brands have the style and automotive technologies. Seiko watches have earned great achievement for launching the marine watches. Seiko accepted the challenge creating the needs of ocean life. Seiko Velatura superior collection of marine watches is made for Mens and women's. Have a look on this timepiece Seiko Velatura Chronograph SNAE21P1 watch for you.
This timepiece has an attractive Stainless Steel Case with Black Hard Coating with urethane band. This is very suitable for dressing style. This watch has black dial color and it is runs with caliber of 7T04. This timepiece has accurate Quartz Movement with the chronograph function. This watch has also water resistant up to 100 meters enough for normal conditions. This watch has date window between 4 and 5 O'clock position. This watch has a one of the feature on split time measurement that's use for the sports activity and also has a tachymeter on inner bezel.
This Seiko Watch has become a fashionable model all around the world. The Seiko Velatura Chronograph SNAE21P1 watch has anti-reflective coated sapphire crystal and screw case back which allows tools open back. The Luminous Hands and Markers help to read time in night time as well. The case diameter of this watch is up 44mm with crown and the case thickness is up to 13mm. This timepiece is best choice for those people who take interest in sports and wants to improve his dressing sense.