TechnoMarine successfully merges the art of horological innovation with spirited design. This spirit stylistically aligns with discerning men and women who dare to combine sophistication with wit, originality and quality. Focused on incorporating the essence of active luxury, TechnoMarine offers timepieces rich in dimension and attitude. Holding true to the founding mission of delivering exceptional time with the attributes of freedom and elegance, TechnoMarine constructs each watch with the highest of standards. Technical skill matched with distinction in design imparts creations of true significance.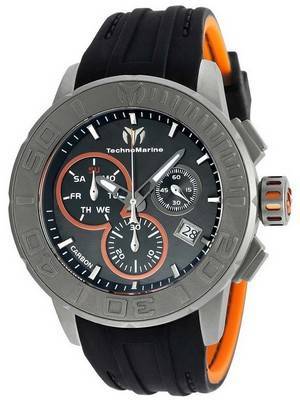 From initial design inspiration to construction to final execution, all models are carefully engineered utilizing only the finest materials. Due to this distinguished craftsmanship, TechnoMarine has earned international recognition reflective of the brand's detailed attention to delivering excellence. While equipped for the active lifestyle, each TechnoMarine watch is also an expression of luxury in motion. Inspired by the natural rhythms and eloquence of the ocean, vitality comes forth emboldened by distinct, cutting-edge compositions. A fusion of quality, motion and color, TechnoMarine offers authentic representations to capture the aesthetics of effortless, versatile time compelling articulations for landmark moments in time.
The TechnoMarine Reef collection takes active time to new heights with TechnoMarine Titanium Reef Collection Chronograph TM-515001 Men's Watch. The Titanium Stainless Steel Case and Bezel with Black, Orange Silicon Strap fastened with a Carbon Dial makes the watch a refined exclusive one. The Swiss Quartz Movement with a Caliber Z60 makes it technically conventional. It has a Sapphire Crystal and a Chronograph Function with a Day and Date Display feature. Its water resistance is 100 MM.


It is prepared for play but ready for an evening on the town, the timepieces of this collection is all appointed with fearless components in design that reflect the optimum inner workings of each model. For an unmistakable impact, the TechnoMarine Reef collection, reinforcing all the possibilities time has to offer.