Seiko Watches make by advance technologically movements. Earlier watches are known just as a thing of timekeeping nowadays its used for various purposes like listening calculating, music, countdown time etc. Depending on the user requirements designer makes multifunction watches that show human style and perfection. Seiko also know for making such a wonderful watches, Seiko produces verity of large collections for men's and women's.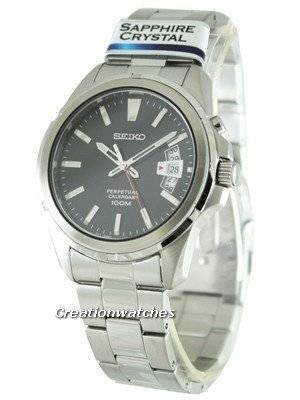 People love the Seiko Quartz Perpetual Calendar Watch not only for the functionality of perpetual calendar but the great design. Actually the structure of perpetual watches attracts people. Seiko Quartz Perpetual Calendar SNQ131P1 watches are awesome. The case and Bracelet is made up of stainless steel. The case diameter of this watch is 40mm. The Black Dial is one of the best features of this watch. You can adjust it over your wrist very easily with Folding Clasp with Safety Push-Button release and it is skin friendly. This Seiko Men's Watch is the ultimate formal look watch with perpetual calendar function (all the shorter months and leap years until the year 2100). Sapphire crystal glass is mounted on the face of this watch, this sapphire crystal glass is very strong and more tolerant to scratches also this glass is shiny and well visible in night. For men who desire to enjoy a luxury life, this Seiko proudly presents the best perpetual watch.
Have a look on this timepiece: The Seiko Quartz Perpetual Calendar SNQ131P1 SNQ131P SNQ131. It has 100M watch resistant. This Seiko watch has a much more features you can see clearly. This will be the best choice for those who want to develop their personality.