Seiko believes that the wristwatch is an intimate accessory. The best watches live in harmony and interact with the wearer, and their functions offer a reassuring and emotionally satisfying bond. Like mechanical and quartz, Kinetic is a platform. Over the past 20 years, Seiko has created on this platform a suite of Kinetic movements, each bringing unique features to the consumer.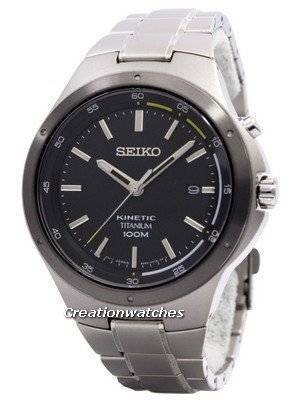 This Time Seiko came up with the Seiko Kinetic Titanium Power Reserve SKA715 SKA715P1 SKA715P Men's Watch which is an interesting hybrid movement that gives you the feel of an automatic while you enjoy the accuracy of quartz. It combines the best of mechanical and quartz technologies and presents something that's absolutely maintenance free.
The Titanium Case of this sporty Seiko SKA715P1 watch is fastened with the Titanium Bracelet which is emphasized by the black color dial. In addition, this watch has a water resistance of 100 meters suitable for most types of water sports such as swimming, sailing and snorkeling in shallow water. The watch does feature a kinetic movement and is finished with Hardlex Mineral Crystal. The Power Reserve Function makes the watch a perfect one, you don't even need to wear it on a regular basis; the power reserve function tells you when you need to. The Date display and Luminous Hands are the toppings of perfection.
Combined with the amazing wardrobe of titanium this model is perfect. It is a trendy men's watch. Once you have it you will realize that this is a watch where you have years of enjoyment!