The Fossil brand is inspired by classic American vintage wear. Fossil watches are designed to make statements, looking to act as a first impression for how wearers are viewed by others. Within the Fossil watch collection Swiss craftsmanship is blended seamlessly with timeless designs and contemporary functionality, resulting in a range that has something to define almost anyone. Fossil designers use a wide variety of materials and styles throughout the watch collection, from deconstructed leathers to multi-faceted, colorful metals, technology-laden cases to minimalistic aesthetics and more, providing the discerning watch-buyer with multiple choices to make a strong statement. Fossil watches are more than just a practical accessory they are a lifestyle choice that lets the world know who you are at a glance.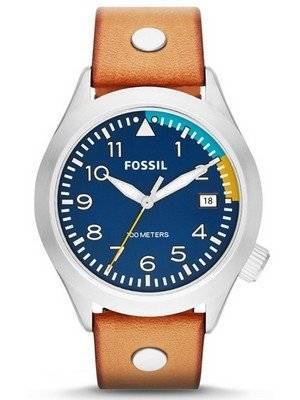 Fossil is an American lifestyle brand, creatively rooted in authentic vintage and classic design. The company strives to create high-quality products that preserve the best of the past while updating it for today's consumer. From iconic inspiration from the 1950s and 1960s to innovative mid-century architecture, the brand's unique style reflects the best of what it stands for. The Aeroflite is function, utility and action all rolled into one. Aviators of the '30s and '40s were pushing the boundaries of technology and machinery to accomplish what had never been done before, and they considered their watches to be just as integral of a tool as they did their altimeter and airspeed indicator. The Aeroflite watch was designed to express this experimental and adventuresome spirit of early aviation. A simple, field-style case and over sized, easy-to-read dial pay homage to vintage cockpit instrumentation.
Originally inspired by 1950s aeronautic cockpit instruments, The Aeroflite provides accuracy, clarity and durability in a variety of conditions. The Fossil Aeroflite 100M Three-Hand Date Tan Leather AM4554 Men's Watch is a perfect combination of unique and understated, The Aeroflite features an easy-to-read Blue dial and Silver Hands And Markers. It's a can't-go-wrong classic minimalist watch that is both timeless and timely, with an interchangeable strap that feels very solid and wears very well. It features a Stainless steel case with a tan (calfskin) leather strap, working on an extremely accurate electronic movement utilizing the natural frequency of vibrations of a quartz Movement. The dial has a date display and well protected with a Mineral Crystal. The water resistance of the watch is 100 mm. Rather large and hefty, but smart looking and easy to see, as you will need it amidst a lot of hustle and bustle.
Aeroflite soars to the top of the list this season with a handsome leather strap and striking steel case. From office attire to off-duty outfits, it's the ideal wrist essential for now-and for years to come.