A classy and good-looking watch is a must-have in every man's wardrobe. The Emporio Armani collection of watches will provide men with a wide variety of watches to choose from. Whether you are looking for a formal, an analog, or a chronograph watch, you will be spoilt for choice when you shop for Emporio Armani Watches for men. Armani is a brand replete with stylish collections. Particularly stylish and sophisticated is their range of watches. With a vision of style that is iconic and modern, Armani has managed to craft time tellers that are way above the extraordinary. The watches are perfectly designed leaving you spellbound every time you look at it. Every component is carefully crafted keeping intricate details in mind.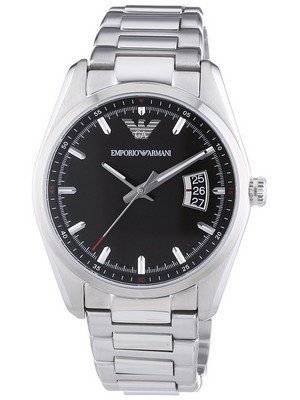 Emporio Armani Watches reflects this approach with modern shapes and materials balanced with a classic style. A watch tells more than just time – it reveals something about the wearer. Now Armani introduce new watch and named it Emporio Armani Sportivo Quartz Black Dial AR6019 Men's Watch. This watch has several features that attract the watch lovers towards it. The features of the Emporio Armani Men's Watches are described as follows. It has Stainless Steel Case with Stainless Steel Bracelet. Also this watch having Mineral Crystals and Solid Case Back in watch. This watch has Analog Display, some people likes Analog Display instead of digital ones.
This Emporio Armani Men's Watch has Quartz Movement. It means the watch works on battery. So it becomes very easy for any users. To replace the battery of the watch in future, if they get any problem with watch. It has Black Dial to make the watch more beautiful. No matter what your personal style, you can find the perfect men's Emporio Armani watch for Men's.