It's hard to imagine a watch style that is more bold and brave than Diesel. You could say Diesel has all the bells and whistles, but that would be an understatement. Bold design, wide bands and high tech elements make Diesel stand out in more ways than one. The brand labelled Diesel has been linked with the world of bold, cutting edge and youthful fashion design.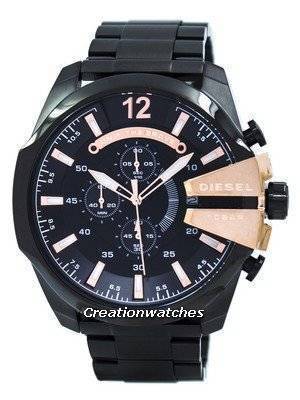 The fashion background they used allowed the Diesel brand to grow and flourish, taking the fashion world boldly by surprise with every new product. Diesel watches fit into an active lifestyle like no other brand. Diesel styling combines contemporary urban flair with denim casual and something to appeal to everyone.
This time they came up with the Diesel Quartz Chief Chronograph Black Dial DZ4309 Men's Watch which does the judgement by living up to the excellent with well-deserved Diesel brand reputation for creativity and vivid imagination in design. This watch has a black ion-plated Stainless steel case and is fitted with a chronograph quartz movement. It is fastened with a black ion-plated stainless steel bracelet and has a black dial. The Rose Gold Tone and Luminous Hands and Markers are eye catching feature of the watch. The watch has a date function too.
This Diesel Chief Chronograph watch is one you want to linger over and devour its uniqueness! Looking for a durable, an iconic fashion brand which offers a casual outlook in premium fashion, then this watch is a perfect match. It is perfect for the men on-the-go.