CASIO's shock-resistant G-SHOCK watch is synonymous with toughness, born from the statement 'creating a watch that never breaks'. Each watch encompasses the 7 elements; electric shock resistance, gravity resistance, low temperature resistance, vibration resistance, water resistance, shock resistance and toughness. The watch is packed with Casio innovations and technologies to prevent it from suffering direct shock; this includes internal components protected with urethane and suspended timekeeping modules inside the watch structure. Since its launch, G-SHOCK has continued to evolve, continuing to support the mantra "never, never give up".
G-SHOCK debuts an impressive assortment of G-LIDE digital watches. Emphasizing superior functionality and performance, the latest G-LIDE collection is offered in four eye-catching color ways that emphasize G-SHOCK's distinct digital time-telling and surf data capabilities. Street or marine sports, the G-SHOCK G-LIDE has already marked its prominence in these realms. And now, Casio adds that stylish bent to make it conquer the realms of street fashion. So athletes and surfers can wear the G-Lide around the clock, without the need to change. Maintaining the tradition while making it more acceptable to the mass is a breakthrough is Casio's achievement.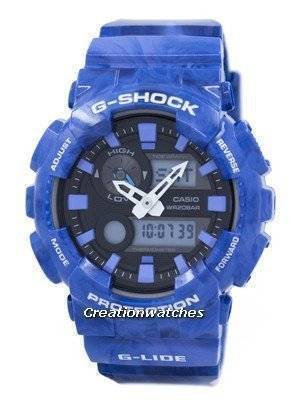 G-SHOCK G-LIDE has long been a favourite choice among the world's top surfers and street sports athletes, and these new additions promise to maintain that tradition. The new Casio G-Shock G-Lide Analog Digital GAX-100MA-2A Men's Watch combination model provides the best of both analog and digital formats. Large hour markers, hour hand, and minute hand contribute to easy reading. Surfing-oriented functions include Tide Graph, Moon Data, and temperature measurement. Just about everything about this watch is designed to support activities on the summer seas. An analog Tide Graph feature provides an intuitive readout of current time conditions when you need it. The Shock and Magnetic Resistant watch with the Resin case and band is well protected with the Mineral Glass. It features World Time of 29 Time Zones with Full Auto-Calendar (To Year 2099). It has Countdown Timer, 1/100-Second Stopwatch and 5 Daily Alarms (With 1 Snooze Alarm). The 200 MM Water Resistance works with an Accuracy of ±15 Seconds per Month. It also endures LED Light with Hourly Time Signal and 12/24-Hour Format with Button Operation Tone On/Off. It also features Regular Timekeeping.


Designed with surfers and water sport enthusiasts in mind, the latest line of G-SHOCK G-LIDE watches is comprised of the series in four new exciting color-ways this summer. Grab the new style complement the superior technology that the G-LIDE series has to offer for an ideal companion while enjoying the excitement that water sports provide.