Skagen established itself as unique and very popular watch brand. They are world famous for great design and instantly recognizable. Skagen timepieces feature relaxed, functional styling, and a refined finish. With detailing that is informed by a simple, contemporary aesthetic, watches make the perfect gift for any guy on any special occasion. From traditional mechanical timepieces to cutting-edge smart watches, Skagen's watches are here and at the ready to delight and enchant any and every future wearer. And because they're made with durable case bodies with added details like strong steel and enduring bands, rest assured that Skagen's watch are built to last and withstand the test of time, no matter where the wearer takes them.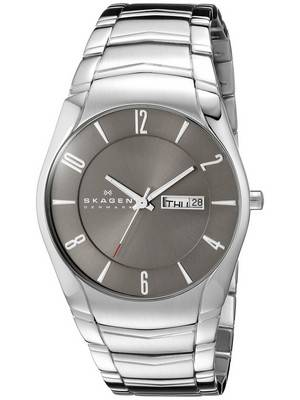 Because they hark back to the serene Nordic seascape that inspired them, Skagen's watch embody a set of minimalist but purposeful Danish design principles. Within each of timepieces, one could get to see elements that recall the ocean's peaceful waves, colors and motion, from neutral palettes to smooth, streamlined movement. The city of Skagen, Denmark, is known for its beautiful landscape where the North and Baltic seas meet, just like their signature watches are known for being a physical intersection of tastefulness and functionality. The Skagen Laurits Quartz Stainless Steel 531XLSXM1 Men's Watch is one that resembles its brands uniqueness.
The Skagen Laurits is designed to be striking without sacrificing understated simplicity and sophistication. Its luxurious finish ensures modernity, elegance and versatility all packed into one, making it a beautiful watch that will complement your week long dressing needs. The slim design of the watch case flows into the band, bringing a seamless look, making this slim, handsome and classy watch, perfect for those with good taste. The Stainless Steel Case fastened with the Stainless Steel Bracelet accompanied with a Grey Dial is a perfect match. The Dial is very well protected with a Mineral Crystal. The watch runs on a battery i.e. it has a Quartz Movement. It also has a Day and Date Display feature. The bracelet is bound to wrist with a Deployment Clasp. The water resistance of the watch is 30 mm and it has a Solid Case Back with a Pull/Push Crown.
Take home a piece from collection of Skagen for yourself or to give as a gift for someone special, and you'll be bringing a touch of sophistication to any wardrobe that's suitable for any and every occasion. The timepiece that can be mixed and matched to suit any man's outfit on any day of the week, there's something for every guy among Skagen collection.