Innovative, technologically advanced, award-winning; Citizen has been an iconic name in watches for years, and for very good reason, thanks to the range's durability, reliability and exclusive technology. Citizen is a universal leader in cutting edge technology. Not long ago Citizen declared an innovative standing as the leader in Ecologically Friendly timekeeping with its Eco-drive collection. Beyond sheer size, Citizen is also recognized as a worldwide leader in advanced technology. From the world's slimmest LCD watch to the first voice recognition watch and the world's first professional dive watch with an electric depth sensor, Citizen's record of "world's first" is unmatched.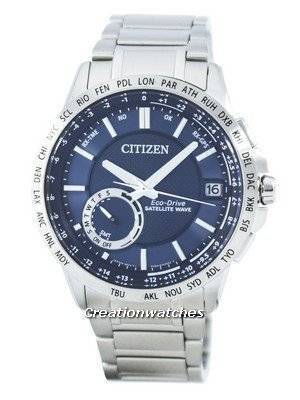 Citizen watches are sure to keep you stylish as well as punctual. Whether you want a timepiece with a simple design or something with heavy stone work, this brand will have you covered. The brand designs its timepieces under various collections – Eco-Drive, Signature Collection and Drive from Citizen Eco-Drive. The Eco-Drive series of timepieces are crafted with attention to detail. Most of them come with batteries that are rechargeable and these batteries are not made from any harmful materials. This also eliminates the need for replacing batteries often. The Signature Collection of timepieces come with improved features and enhanced designs. Most of the Drive from Eco-Drive timepieces come with steel bands and can complement your look on any occasion.
The Citizen Eco-Drive Satellite Wave GPS World Time CC3000-54L Men's Watch features GPS Satellite Timekeeping System, allowing you to track your time – and it's always extremely accurate. The Eco-Drive technology harnesses the power of light – from any natural or artificial light source – and converts it into energy, which is stored in a permanently rechargeable solar cell. Inspired by the creativity and imagination of dedicated craftsmen, this watch brings a classic look to a timepiece equipped with sophisticated precision mechanics. In response to the challenge of improving efficiency, Eco-Drive enables this watch to draw power from light sources, the stainless steel case with a Stainless Steel Bracelet and sapphire glass add a durable and stylish edge, and it is water resistant to 100.The Blue dial with a Luminous Hands and Markers features Power Reserve Indicator, Overcharging Prevention Function, Insufficient Charge Warning and a Perpetual Calendar. It also has a World Time and Day and Date Display working with a F150 Caliber.
Everyone can have the pleasure of owning a legendary watch. Citizen watches are a jewel in the crown of any watch collection. Citizen pride themselves as being ahead of their time, their brand stands for innovation and high precision that make life better for ordinary people.