A combination of beauty and technology, the watch that you wear on your wrist speaks volumes about your tastes and preferences. Those fond of watches are always on the hunt for the perfect one. This quest, however, will end when you browse the collection of Citizen Watches. Citizen has become a world renowned watch dealer. Citizen has held the position as the world's largest watchmaker. Additionally, Citizen is a universal leader in cutting edge technology. Not long ago Citizen declared an innovative standing as the leader in Ecologically Friendly timekeeping with its Eco-drive collection. Eco-drive watches generate ongoing electrical energy, allowing the watch to charge outdoors or in artificial light.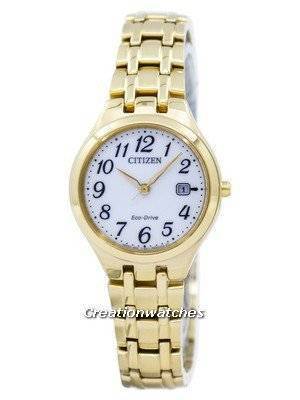 Citizen watches powered by the Eco-Drive technology are not only eco-friendly, but also eliminate the need to replace a battery. The rechargeable battery used in an Eco-Drive watch has a solar cell that captures any artificial or natural light and generates electricity to power the watches. Citizen Eco-Drive light-powered watches harness and store light energy. The Citizen Corso Eco-Drive EW2482-53A Women's Watch is this revolutionary Women's watch. This elegant timepiece, part of Citizen's Eco-Drive collection reflects prestige, quality and precision in perfect harmony. This is a timepiece with distinct character given its elegant simplicity and alluring design.
Citizen Corso Eco-Drive EW2482-53A Women's Watch has Gold Tone Stainless Steel Case fastened with Gold Tone Stainless Steel Bracelet. The watch has Eco-Drive Movement with E011 caliber. It has Mineral Crystal with White Dial give amazing look to watch. It has also Analog Display and Date Display these features make watch more user friendly. Citizen watch has Pull/Push Crown with Deployment Clasp. The water resistance of watch is 30 M.
This Citizen Corso Eco-Drive will lend a perfect finishing touch to your corporate look. Combining style and technology in a single piece, this timepiece never asks for a battery change, courtesy the Eco-Drive movement.