Casio is a best watch maker company in industry. The Casio Company has made some various types of watches. Even after that in now times, this Casio has introduced some unique features. If anyone wants to keep something different these Casio watch is all about. These Casio watches are so close to people's heart. Casio has given great looks to his watches.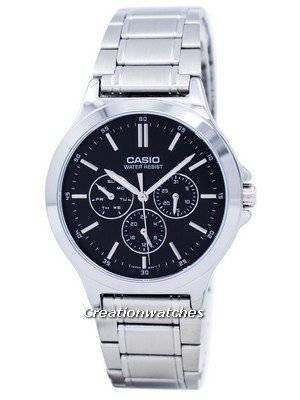 All the features of this Analog Quartz watch are amazing. Casio Analog Watches are one of the better choices. Anybody who has ever owned Casio Watches knows they offer superior quality and strength. They look great and stylish watches for develop their personality and fashion as well and to fulfill the requirements of watch lovers. The Casio Company has produced one of the stylish watches that are Casio Analog Quartz MTP-V300D-1AUDF Men's Watch.
Company has been offering high-quality watches for buyers and when people choose Casio, they know they are having an excellent timepiece. This watch has Ion Plated Stainless Steel and Stainless Steel Bracelet. Also this watch has Black Dial which makes the watch more attractive with Mineral Crystal. One of the feature of the watch is that the watch having Triple Fold Clasp with Luminous Hands. The watch has Day and Date Display. The watch is Regular Timekeeping with ±20 Seconds per Month accuracy. The water Resistance for this watch is 30M.
I can say that this is a compact timepiece which will tempt you. It's enough to wait for purchasing this watch. Hurry up.. It's interesting time peace for you.