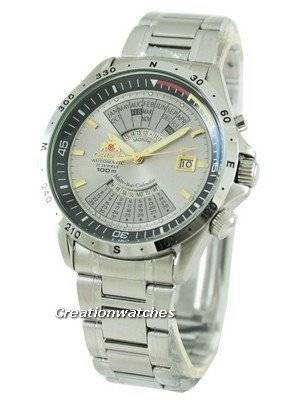 Orient company was launched in 1950. Orient is now the leading watch manufacturing brand amongst the top watch making company. Over the last 60 years these company producing, quality made, accurate and great timepieces. It is a stylist element. These orient watches are the formal and matches the men's dressings and attitude. Orient watches company has continued to developing wrist watches with latest technologies.
This orient FEU03001BW watch has a firm stainless steel case and bracelet. This men's orient watch is made in japan. The working movement of this watch is established on Japanese automatic and mechanical movement. It has fluorescent hands and indexes, 21 jewels, caliber = 46d40 as well. It has also great features like date display, day of the week, month, and year display; these watches are specially screwed crowned. for the scratch resistance it has mineral glass which protects the dial, it reserves power for approximate 40 hours, along with all this features this watch is also water resistant over 50 meter, for the hour and date setting it has crown at 3 o'clock position and crown at 3 o'clock position for the year and day setting, to rotate inner ring/bezel the crown is placed at 4 o'clock position. And the watch dimension is 44mm x 12 mm.
This FEU03001BW watch has a better look. Orient automatic watches is one of the better choices in watches. This watch is best for daily using because of its durable design and great water resistance.