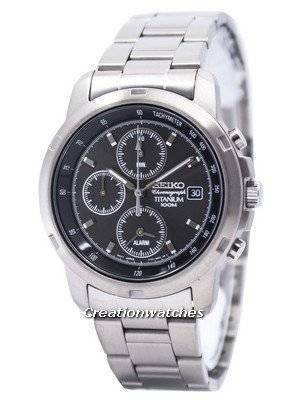 Seiko Watches has been at the cutting edge of introducing latest technology and designs in watch market. The innovative designs of these Seiko Watches are continually impelled by dedication giving us the mass of world's finest watches. Seiko Chronograph is the most common category from Seiko Watches. Nowadays, Chronograph Watches are more popular in watch market since they work as a timekeeping and stopwatch. The Seiko Chrono timepieces will definitely divert your attention, once you see it. Because they followed by flawless materials like stainless steel, titanium, leather bands.
Seiko Chronograph Watches have some very beneficial and essential features include Water Resistant, Scratch Resistant, shock resistant, sub dials, tachymeter scale and day and date features. One of the best technologies endowed by the Seiko Chronograph is the kinetic technology. This technology offers a direct interaction between the watch and the person by getting the power when the owner moves his or her wrist.
If you want some good and expensive look, you will consider buying this Seiko Series Chronograph Timepiece. After wearing the Seiko Chronograph Watch, men or women will surely feel proud as having the latest technology accessory. Chronograph Watches always come with elegant, classy and expensive features. They look stylish and modern as well. Material uses for bezels of these watches are very sturdy. They normally contain Tachymeter Scale. A chronograph watches are normally much more durable than other category watches.