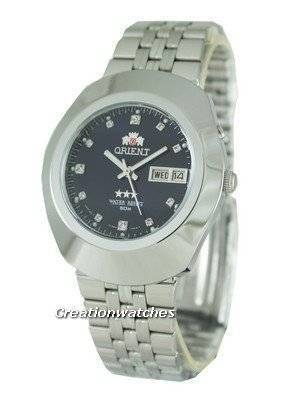 An Orient is a very fine and best watch maker company ever. The company Orient has made a various types of watches for men and women. Even now, this Company is making the wonderful watches with new technique and characteristics. Company is famed for creating the world class timepieces. Orient is known for producing one of the most finely accurate timepieces. Company is selling watches worldwide more than 150 countries, for now Orient is the largest producers of watches in the world.
On the quality basics Orient 3 Stars has made this model EM70005D. This Orient has some classic features like Mechanical Movement With Automatic Winding, Luminescent Hands and Indexes, Calibre: 46943, Day Window At 9 O'clock Position, Date Window At 3 O'clock Position, also This watch is beautifully designed by Stainless Steel case and Stainless Steel brace late which gives this watch a classic steels look. And the blue dial matches well with the design along with all this features this watch is 50M Water Resistance.
The reason of its classy look this timepieces is been most wanted in elders. Orient watches are providing quality as well high featured technology too. After presuming this, you will really feel like so comfort, if you ever wish to buy some classic Watches don't miss this orient 3 stars watch it will be the best for you. All the qualities are beautifully patched up in this watch you can use it.