In 1950 the company orient was established and founded in the earth. Today, orient watches are known all over the world. An orient watch has supply high quality, more style and types of watches for both women's and men's. Orient Watch has continued to develop and arise wrist watches (automatic / mechanical watches). This orient FEU03001BW men's watch is one of the unique pieces from Orient.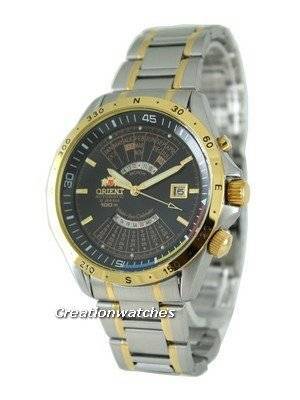 This orient men's watch has a strong stainless steel and bracelet with partial gold yellow. This men's FEU03001BW orient watch us made in the land of technology japan. The working movement of this orient watch is based on automatic and mechanical movement. Automatic watches operate on the principle of winding themselves. Automatic watches are also known as self-winding watches. In automatic watch there is no need to keep the watch in motion 24 hours a day when usually only 30 minutes of motion is necessary to keep it properly wound. You can wear automatic watch not only in day but also in night, and the watch will never be over wound.
This orient watch has a good looking black dial. In this orient FEU03001BW Automatic Mens Watch, the mineral glass is mounted for better protection. This automatic men's watch date display window is situated at 3'o clock position. Using this feature we can see the current date of the month. And, the perpetual calendar is located at 6 o' clock position; also it has ten thousand calendar years. Orient watch is one of the better choices in watches.